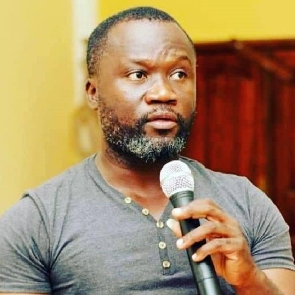 Entertainment pundit and movie producer, Ola Michael has hit back at Highlife musician, Gyedu-Blay Ambolley over comments made about featuring young artistes in the music industry.
Gyedu-Blay Ambolley had stated in an interview that many young Ghanaian artiste do not meet his standard, adding that they usually make "Sharp-sharp" music, which has a low shelf life. He declared that he would not partner with any young artiste even if he was offered a fortune.

Reacting to the statement, Ola Michael chided the veteran artiste, stating that he is fond of speaking down on young artistes without patronising or encouraging them.

"He is one of the people who doesn't have time to listen to the young ones and appreciate them for their efforts. Most of the time he talks about the young ones, he is always critiquing them. He speaks as if they do not do anything worthy or are not creative or talented.

"I remember sometime this year, he said that these young artistes sing more about their girlfriends than social issues. But his popular song, Simi Rapp was about a girl," Ola argued on UTV's United Showbiz.

He dared Gyedu-Blay Ambolley to produce any young artiste whom he had groomed to take after him should he step down from making music, insinuating that the musician would be tagged a failure if he did not achieve such.
"Good leaders have always led people who are better than them to replace them. So if Mr Ambolley stops music and he cannot point out anyone whom he has trained or influenced to take after him, then he has failed. He should not blame the young people," he said.

Ola Michael further stated that Gyedu-Blay Ambolley has lost his touch with the new generation. Stating that many young individuals do not remember him for any song outside "Simi Rapp".

"This young generation, most of them can't even relate to his songs. You ask any young one about Gyedu-Blay Ambolley, they will only know him for Simi Rapp, but he has a lot of songs," he said.

ID/BB

Ghana's leading digital news platform, GhanaWeb, in conjunction with the Korle-Bu Teaching Hospital, is embarking on an aggressive campaign which is geared towards ensuring that parliament passes comprehensive legislation to guide organ harvesting, organ donation, and organ transplantation in the country.
Click here to start the nomination process for the 2023 GhanaWeb Excellence Awards

Watch the latest episode of Nkommo Wo Ho on GhanaWeb TV below: