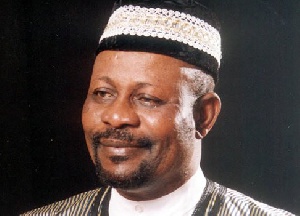 Tue, 10 Sep 2013 Source: George Clifford Owusu, Daily Guide
The former Vice president of the International Federation of Musicians (FIM), Alhaji Sidiku Buari has disclosed that he is ready to offer $2,500 to anybody who will volunteer information leading to the arrest of persons engaged in illegal downloading and sale of his musical works on the internet.
According to him, apart from the cash reward there are other packages put in place for those who will volunteer information on those involved in piracy.

Alhaji Sidiku Buari, who is also a former president of the Musicians Union of Ghana (MUSIGA), told BEATWAVES in an interview in his office in Accra that piracy undermined the legitimate market, impoverished music owners and deprived government of tax revenue.

He disclosed that for the past years, his musical works have being sold on the local and international music markets and that the time had come for him to wage an intensive war against all those music pirates.

The former MUSIGA president who is not happy about the rising rate of music piracy stressed that he was ready to fight music pirates until all intellectual property thieves whose activities were impoverishing copyright owners were flushed out of the system and brought to justice.
He declared, "I will not relent in my efforts to dismantle the nefarious operations of these nation wreckers, who build their wealth on copyright theft".

He noted that difficulty in enforcing laws against piracy of music in Sub Saharan Africa was a serious canker, adding that pirated versions of creative works covered at least 60 percent of the market and in West Africa; the figure could be as high as 90 percent.

Alhaji Sidiku declared that lack of enforcement of copyright laws had empowered the pirates, who are better organised and more successful than the victims, and perhaps, act in concert with the public enforcement agencies.

He said, in most African countries, the ineffective enforcement of copyright laws had led to a host of other unintended consequences including pushing the production of African music out of the continent. For example, in the late 1980s, most legitimate music businesses in Ghana, including production houses and record factories, were shut down due to competition from pirates.
Source: George Clifford Owusu, Daily Guide