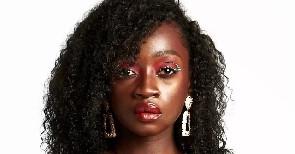 Singer and actress Adomaa has recounted a robbery she suffered in 2022.
According to the 'Dede' hit TV series, the incident has left her traumatised and paranoid.

"Last year, two guys with machetes on a bike robbed me," she revealed on Twitter, Wednesday, March 15, 2023. "Now every single time I hear a bike roar in the distance, my heart skips several beats. [downcast emoji]"

The multi-talented creative arts star also mentioned a 2009 car accident and hinted at another untoward happening for which she provided no details.

"Still haven't gotten over sharp turns since the car accident in '09," she said. "Now this new addition. I hate this. Kmt [kissing my teeth]."
Meanwhile, Adomaa has been featured in the American Drama/Crime hit TV series 'Snowfall'.

Season Six, Episode Three of Snowfall, titled 'Door of No Return' was filmed in Ghana, West Africa, capturing the gloom of slavery in Ghana, which boasts three famous slave castles, and Africa.

'Snowfall' is centred on the 1980s crack-cocaine pandemic in Los Angeles, California, United States of America.

On November 16, 2022, Adomaa officially returned to music after a 7 year break with the release of a 7-track extended play (EP) titled 'Becoming Adomaa'. The tape's muse is her fight with depression and self-doubt which led her to attempting suicide. The EP ends with a bright and hopeful resolution and melodic rebirth.