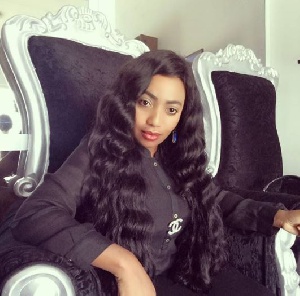 Ghanaian singer and former politician Diamond Appiah has slammed Ghanaians attacking Moesha Boduong over her comments on CNN as hypocrites.
According to Diamond, most Ghanaian girls do far worse than Moesha so how can they have the nerve to be criticizing her?

Writing on social media, the former Trobu parliamentary candidate said that some ladies sleep with men for far less including airtime, pizza and fried rice therefore those people should stop pretending Moesha has said something so extraordinary.

Read her post (unedited)

"All the HYPOCRITES insulting Moesha for speaking the bitter truth about wot most Ghanaian women do should bow down their heads in shame. Did I hear u say she is a disgrace to women? You and I know majority of women in this country, even the working class still sleep with men for money so where from all this hypocrisy.

Women in this country decided to be a disgrace to themselves n the nation ages ago when they decided to stoop low n wreck homes of other women by sleeping with their husbands for incentives n even bastards. (Have u forgotten about the fa wotu begye Golf nonsense during the Acheampong regime) Some shameless women even go as low as sleeping with men for recharge cards, a bottle of Guinness, fried rice, pizza etc yet those women are on social media insulting moesha for being honest about her lifestyle. Some of u r on social media claiming u are hard working ladies but trust me your monthly salaries can't even buy u those expensive weaves u wear or fund the apartments u live in. So the question is who buys those weaves n pay their rent? Is it a Ghost?
You n I know honestly that 90% of Ghanaian girls go in a relationship with either married or single guys for financial support so was moesha lying? Their only problem is Moesha shouldn't have spoken the truth on CNN but In fact she should have added that about 80% of those so called working class girls making noise n chastising her got employed by sleeping with their boss or someone related to their Boss for employment. Ghana is indeed a country of Shameless men n women who are hypocritical about the TRUTH!"

Moesha Boduong has been dominating the headlines in Ghana the whole of this day after she told CNN that she sleeps with a married money in order to make money to fend for herself.