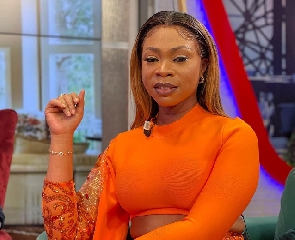 Singer and presenter, Michelle Diamond better known as Michy has once again been subjected to public scrutiny after her former partner, Shatta Wale accused her of keeping their son from him.
But this time, she has made a statement, making some argue she is calling out Shatta for seeking public sympathy on social media and causing his fans to rebuke her.

Michy wrote: "Social media parenting. I didn't know I had lions guarding my lil man."

As earlier reported, Shatta claimed that it's been years since he set his eyes on his 6-year-old son.
"I like how Michy is being frank with her experience out there, but someone should tell her I have not seen Majesty for years, and that's not cool. I also want to buy my son some toys and trainers," read his Snapchat post following Michy's recent interview with their son.

Michy and Shatta broke up in 2019. Although no reason was given, some have cited abuse as the basis for the split.