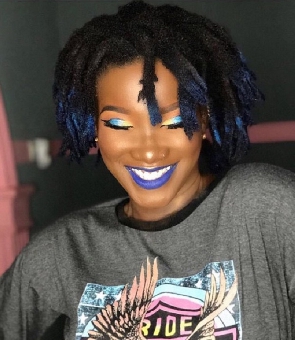 Five years ago, the world and Ghana lost a jewel whose distinctive voice and upbeat demeanour elevated the Ghanaian music scene.
Many Ghanaians are still not over the fact that the female composer passed away unexpectedly, even though it has been half a decade since her demise.

Five years after her horrific death in a vehicle accident, social media users are paying tribute to the late singer, by sharing her songs and honouring her in their unique ways.

As users pay tribute to the late Ebony Reigns on Twitter, the hashtag "Rest In Peace" topped social media trends.

With different images of Ebony circulating on people's pages, netizens have also shared very sweet messages for the 'Sponsor' artiste, asking God to keep her safe in His bosom.

A user said, "Today marks exactly 5 years since we lost the Queen… continue to rest in peace" with a love emoji accompanying the post.
Another added, "Today marks exactly 5 years Ebony Reigns departed from the land of the living, Rest In Peace Ohemaa. Like by now, she wins 5 Grammys."

"Exactly five years today, we lost this beautiful and talented young lady Priscilla- Opoku -Kwarteng, known as EBONY. Continue to rest in peace, my dear legend!!" a third added.

Read more posts below:


Exactly 5 years ago this time, my phone was buzzing like crazy cos I had broken news about the death of one of the finest talents in Ghana on https://t.co/CSjeke2rGg Continue to rest in peace Ebony Reigns. pic.twitter.com/NIPuYZkIwB

— Ebenezer Donkoh (NY DJ) (@nydjlive) February 8, 2023
I used to sing back-up vocals forebony .. rest in peace Ebony reigns . Your legacy lives on ❤️❤️???????? pic.twitter.com/6fsZxkhhXe

— frankie payper (@FrankiePayper) February 8, 2023
Today marks exactly 5years we lost Priscilla Opoku kwarteng , populary known as Ebony Reigns.

May her soul continue to rest in peace.

Rest in peace | ebonyreigns | Christian atsu pic.twitter.com/rerulPjMRl

— Celebrity_ikons (@celebrity_ikons) February 8, 2023
5 years Ago We lost Ebony Reigns , May her Soul continue to Rest In Peace. This a song from her ft Queen of Ghana Music Wendy Shay ????♥️????pic.twitter.com/tHuTqTKwK5

— Alpha SarkCess (@AlphaSarkces) February 8, 2023
Exactly five years today we lost this beautiful and talented young lady Priscilla- Opoku -Kwarteng popularly known as EBONY.

Continue to rest in peace my dear legend!! pic.twitter.com/z00k0auEKd

— Bawa Kwasi (@bawa_kwasi) February 8, 2023
ADA/BB