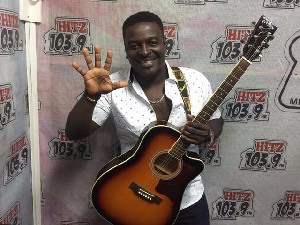 Mon, 8 May 2017 Source: Hitz FM
Highlife musician Kumi Guitar has described filmmaker Socrates Sarfo as ignorant for trolling him on Facebook last year.
Socrate Sarfo mocked Kumi Guitar on Facebook for always carrying a guitar, calling the guitar a "weapon".

In an interview on Hitz High Table on Hitz FM's Dr Pounds, the singer responded by stating it was ignorance which made the filmmaker to make the remarks.

"I think it was ignorance because he didn't know why I was carrying it. Maybe he thought I went there to have fun. I was at TV3… and I met Fabregas and we took a picture and I had the guitar," he recounted.
"Maybe he thought I was just there for fun and I was carrying it, that's why I used the word ignorance, he didn't know what was happening there [that's why] he made that comment."

Kumi added that he has met Socrates on several occasions after the incident and they are cool.

"I wasn't bothered [by] the comment," the 'Brown Sugar' singer said.
Source: Hitz FM