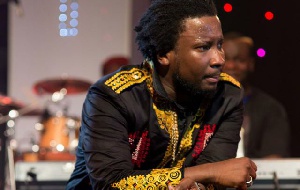 Artiste manager and Chief Executive Officer of Media Excel, Ernest Kwesi Ennin has slammed gospel musician, Sonnie Badu for jumping to the defense of Ebony and suggesting that critics of her raunchy dressing are hypocrites.
Ebony has been mauled by a section of the public for showing too much flesh when performing on stage but Sonnie Badu in an interview with Sammy K mounted a spirited defense for her.

As reported by abrantepa.com, Sonnie Badu asked critics to show love to the '90s bad gyal' instead of criticizing her, adding that Ebony has a management team who are aware of the kind of brand they are building.

"Everyone has a reason behind what they do; so before you criticize, listen to the person's story and know what they have been through.

"All Ebony needs is love. She has a great talent… Her style of dressing is not new to us. She was covered during her album launch. So find out her reason and just show love. I mind my business but this is not something I'd condemn. People nicodemusly watch performance after criticizing her. She has a management so leave her to do her thing," the Ghanaian UK-based gospel musician noted.


But making a submission on Hitz FM's Daybreak Hitz, Wednesday, Kwesi Ennin described Sonnie Badu's posture as "unfortunate" as he argued that he least expected a man of his caliber to defend immorality.

"If Ebony was his sister and happens to go on stage with this kind of dress, how would he talk to the sister? Ebony is on my Kwahu show slated for 26th December so you could see that nobody hates Ebony. I won't put her on my bill if I hated her. But we are very much concerned because morality is very important in our showbiz. We are not hypocrites by talking about it. Talking about it has shaped the girl. I watched her dressing when she was launching her concert and you could see some amount of decorum had been injected in the lady.

"What baffles me is that he is a man of God. He is supposed to at least, add some amount of words into shaping the girl instead of trying to paint all of us as satans. I find it very unfortunate. We should be able to chastise anybody who would want to go naked in the name of showbiz. If Sonnie Badu thinks we are hypocrites, I'd prefer to be a hypocrite in this direction than allow Ebony go wayward," the Media Excel boss noted.