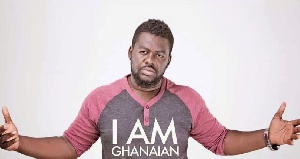 Bulldog, former manger of dancehall King, Shatta Wale, has condemned Sonnie Badu for calling on Ghanaians to stop criticizing Ebony.
He indicated that what the 'Sponsor' hit maker needs from Ghanaians is love and support, not criticisms.

He is quoted as saying "Support Ebony Reigns because she reigns."

However, Bulldog, born Lawrence Asiamah Hanson says he is disappointed in Sonnie Badu over his comments.

In an interview on Hitz FM, Bulldog described Sonnie Badu as a hypocrite, based on the fact that he heavily criticised Patapaa's One Corner.

"Sonnie Badu condemned Patapaa for his hit song One Corner and its dance; and now he is advising us not to criticize Ebony [over her indecent exposure]? I think he should come again," an obviously disappointed Bulldog quizzed.


Against this backdrop, Bulldog, also CEO of Bullhaus Entertainment believes that the 'Baba' hit maker has no moral right to advice against criticism of Ebony.

He all the same commended the 'Baba' hit maker for his good advice that the public shows love to Ebony rather than rain insults.

Bulldog believes that when criticisms against Ebony are constructively done, they will achieve positive results on the dancehall diva.

Ebony Reigns has been heavily criticized by the majority of Ghanaians for her choice of dress and grooming.

So far, Abeiku Santana; Afia Schwarzenegger and Sonnie Badu have found no fault with her over her 'indecent exposure'.

But celebrities including MUSIGA Obour; Celestine Donkor; Kwabena Kwabena's manager have all called the 'Date your father' hit maker to order.