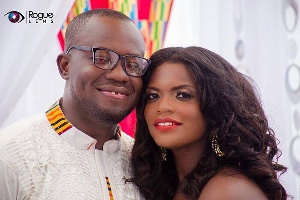 A refix to a line in Sonnie Badu's hit single Baba just to read "Open the floodgates in abundance and cause your blessings to fall on me" would not be bad at all especially at this moment when vibrant radio and television personality with EIB Network, Giovani Caleb and wife Belinda Boadu have welcomed their first baby.
Yes! The wife broke the news via social media on Tuesday March 21 2017.

Sharing a picture of the newly born baby, Belinda captioned it saying "21.3.17 God of wonders" and oh yes for those who want to know the sex of the baby. its a girl.

Giovani and Belinda got married in a beautiful wedding ceremony in May 2016.

Congratulations to the lovely couple.
Not just that, we can again state that Giovani Caleb, who has over the years carved a niche for himself as one of the country's most sought after corporate MCs has inked a new deal as a brand ambassador/influencer with Malta Guinness, a subsidiary of the Guinness Ghana Brewery Limited.

Details of the new are immediately unknown.


nydjlive.com