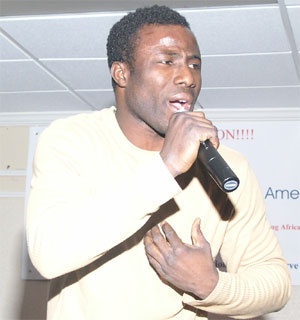 For those gospel music lovers waiting for danceable praise tracks "up in da church", and as the great KirK Franklin put it, "To all my people in the struggle who think God's forgotten about you here's some pain medicine". Steve Kelly definitely also has the solution. He is really taking the gospel to the streets on another level like never heard before.

Steve Kelly offers a heartfelt, youthful, joyous and spirit-filled praise on his sophomore new project entitled, "CONFESSION, The Way To Freedom" , truly a must-have CD. The songs on this project were written by Steve Kelly to impact and change lives. They are meant to bring you to a place of being totally sold out for Christ.


Steve's real relationship with God is indicated in songs like "Be Lifted", " Bless Me", "Jump for JESUS" , and "You got me smiling'". He also brings attention to the plight of people around the world with the song entitled "Peace".


Steve remembers the first time he fell in love with gospel music- he was 5 years old and his grandmother, who was a prophet of the Church of Jerusalem in Monrovia-Liberia, pulled little Steve on stage during a revival. Standing him up on a chair so that they could be at eye level with one another, Steve and his grandmother gave an unforgettable testimony about how the doctor declared that he was going to die within 72 hours because he did not have an intestine. From that moment on, he was hooked and knew this was what he was born to do.


Steve has performed gospel standards such as "Amazing Grace" in the ghetto and on the streets as well as at conventions and crusades across the Caribbean, Africa and the United States of America. "It's a little weird at first," he admits, "but then you see how it touches the people, many of whom can't even understand but still they'll stand there, crying. They feel the emotions. Gospel Music moves people — all people —beyond the barriers of language." He has also shared the stage with such Gospel greats as TW Family, Lukas Simari, Kirk Franklin, as well as other Ghanaian artists like; Pastor Joe Beecham, Getty & Friends, Stella Addo, Helena Rahbbles, and others.

Steve's gifts and vocal prowess are brilliantly apparent on his second International release, "CONFESSION, The Way To Freedom", slated to be released May 5th 2007 on Gospel Music Entertainment Group and distributed through Unbreakable Music Group/Goodies Music Production and CDBABY.COM. "Steve Kelly is a true inspiration Rap/Singer with a unique way of spreading the Gospel that changes the face of African Gospel Music just Like Kirk Franklin did", said Isaac Abaidoo, President of Goodies Music Production. The album beautifully blends Rap, urban, inspiration, contemporary and Worship and Praise styles. Abaidoo continued; "At the center of the album is the message to maintain an uplifting outlook on the road of life,".


His work has already received high praise from the Los Angeles Times, Ebony Magazine and Black Gospel magazine in Philadelphia."Steve Kelly's new release is a soulful masterpiece that will keep his name in the face of gospel music enthusiasts for years to come." - Brat Gilbert, CEO for Simon Illa Production, Inc., said Steve Kelly is "a must for all gospel lovers."


Steve Kelly is definitely the African Holy Hip-Hop/R&B Gospel Star for the new generation.


Gospel Music Entertainment Group & Goodies Music Production brings an array of gospel music to the world, offering a unique appeal and musical dimension to reach beyond the walls of the church and into the world with an inspired word, while maintaining the integrity and victory of the Gospel. For more information about Gospel Music Entertainment Group and Goodies Music Production, visit www.gnyamerecords.com or www.cdbaby.com/cd/stevekelly and www.goodiesmusicpro.com