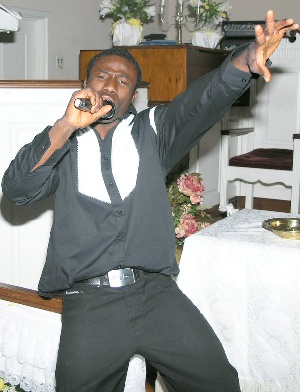 Bronx, NY -- Holy Hip-Hop/R&B Gospel star Steve Kelly did not just sing at the grand opening of the First Annual Ghanaians Royals Fashion show which occurred in Bronx, New York on Friday, July 14th, he has committed to carry on the meaning of the words of his lyrics and title of music genre through the youth of today's world. Steve Kelly realized the future lies in the children and the youth of today and through a contest in conjunction with Ghanaian Royals Fashion show. He hopes to teach the youth to love and accept each others differences.
Upcoming tour

Global Education Project will be partnering with Steve Kelly, Vivian Ofori and the Soul Winners to highlight youth organizations that are walking out the dream and instilling the ideals of Christ Jesus.

"We're excited to partner with Steve Kelly and GYE NYAME Records in this unique chance to impact these communities," says; G.E.P Manager; A J Whitman. "God calls us to live out our faith in a real and tangible way and we saw this as a distinct opportunity to do just that; by assisting Steve Kelly and Soul Winners in providing at-risk youth organizations with the resources they need to change the lives of these children is a natural extension of our desire to see The Message lived out in people's lives"

My goal is to bring attention to parents and organizations that are working with kids every day and to let those kids know that what we have in common is greater than our differences, and that our differences are what make us beautiful; says Steve Kelly.

... At Ghanaian Royals Event
Steve Kelly has always been celebrated for weaving seemingly disparate musical influences into a seamless fabric, creating his own singular style and sound that truly transcends any and all boundaries of genre, race, denomination or societal background.
About Ghana

He will make his way to Ghana next year for the 50th Independent Anniversary. "I am recording a song right now for my motherland, 50 years of independence and my highly appreciation goes to ghanaweb.com, ghanamusic.com, ghanatoday.com and ghananewsreel.com.

Special thanks go to MR CNN, my publicist for his immense support" says Steve Kelly.

G-Nyame Records is taken the gospel to the streets.