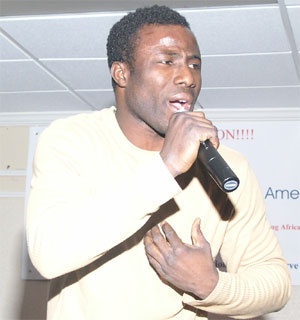 Wed, 5 Mar 2008 Source: Gospel Music Group
Ghanaian U.S based Gospel Recording Artiste; *Steve Kelly* heads to the big Stage for a Music and Entertainment conference with Grammy Award winner and Gospel music best selling artiste of all time; *Kirk Franklin*, and famed producer; *Donald Lawrence* on March 16th 2008 at the Doubletree Hotel in Philadelphia, PA.
Sponsored and hosted by renowned major record labels; *Def Jam*, *Sony, J-Records*, *Universal*, *Zomba Record*s and Philadelphia Inspirational Station; *Praise 103.9*

Steve Kelly getting loud in the studio on the upcoming hit "ZERO2HERO"

The African International and famed U.S based Gospel artiste; Steve Kelly calling this event a Proclamation, The event is designed to give an opportunity for a single record deal with a major label. Steve Kelly also talks about his upcoming new album entitled; "*Zero2Hero" *which is yet to be released in the middle of this year, a true story about his life from who he used to be and who he is now. He vowed to commit himself to God by always given the best of himself and taken Gospel Music to another level in a unique way like never before.
Steve Kelly indicated that his new album has 12 hyped, powerful hand clapping, foot stomping tracks that will make you want to get up and dance, whether you are in the pews, your home, office or in the car.

A delighted Steve says he extends his regards to "all my fans in Africa and around the world, the media,especially; Ghanaweb.com, Ghanamusic.com , Gospel magazine and my entire management team especially Mr. CNN, Gospel Music Group LLC, Unbreakable Music Group LLC and my producer; Simon Illa".
Source: Gospel Music Group