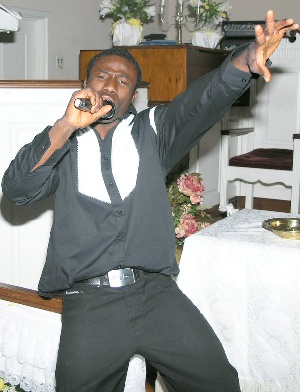 Sun, 23 Apr 2006 Source: Gye Nyame Records
He will explain how to bring Praises to a party

The Psalms instructs believers to "make a joyful noise," which African Holy-HipHop/R&B Gospel Star Steve Kodjoe Kelly has taken quite literally.


Gye Nyame Records is proud to report that Steve Kodjoe Kelly popularly known worldwide as simply; Steve Kelly or Steve K. K. will appear live on Sika Radio, the number one African on-line radio station; www.sikaradio.com on Sunday April 30th, joined and by DJ's of Sika Radio.


Steve will shake the airwaves in a role beginning with part evangelist and part emcee. He will show that he can sing, which he will prove with a few accapella songs. He will also show how to put together a moving show and touch his audience.


The show will run for more than three hours, mixed Steve's trademark genre-bending gospel style with testimonies.


The early part of the program will dominate high-energy, beat-heavy, pop-centric music of True worshippers, Florence Kimotho and other Ghanaian songs.

Steve as a headliner, will be preaching his message of faith and responsibility. He will explain and lead songs from his Debut CD; Be Lifted to his unfinished sophomore project, including a medley of his reggae hit single.


Steve will also talk about bringing together elements of old-time gospel, hip-hop, rap and the occasional salsa horn lick, combining the music with a high-octane ministry into a show. He will bring all listeners to the phone lines early and keep them there for most of the show and interview.


Steve Kelly will be exclusively interviewed about his preparation for the upcoming; A TASTE OF AFRICA CONCERT on MAY 20TH IN MARYLAND and WASHINGTON D.C. A Taste of Africa concert is organized and sponsored by 100degreez. He will also talk about a tour with the TAGOE SISTERS which is also sponsored by HERITAGE ENTERTAINMENT GROUP.


The show's joyful noise will perhaps be a bit heavy with volumes cranked to punishing distorted levels that often obscured the lyrics and the message.


There will be phone lines opened for listeners to question and comment on the program.

Keep it real coming Sunday the 30th and turn into SIKARADIO.COM. The entire show will be on a multi-level set, with beats fused with English, Twi and Swahili. The show will end with a lots of prize givenaways. Ten CDs will be given to the first Ten callers, So remember it is live on www.sikaradio.com. Stay blessed and get steve kelly liiiiiiiiiiiiiiiiiiiiiiiiiiiiive.


Steve Kodjo Kelly's great songs are backed by great productions strictly Holy Hip Hop/R&B beats fused with English and little twi to reach diverse audience. A native of both Ghana and Liberia (his mother is a Ghanaian, and father is a Liberian).


Steve was born and bred in Monrovia Liberia and migrated to the United States during the Civil war. He sincerely offer his gratitude to the following in the media for their immense support; Ghanaweb.com, Ghanamusic.com, Ghanatoday.com, Ghananewsreel.com, 100degreez and Sikaradio.com.


You can reach him @ gyenyamerecords@yahoo.com. Write to Gye Nyame Records, 2820 Girard Ave, Philadelphia, PA 19130

Source: Gye Nyame Records