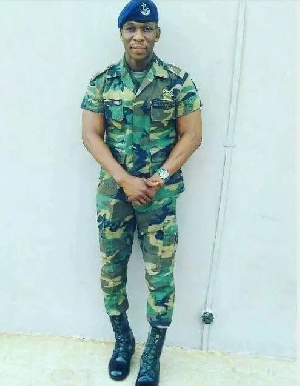 YEN.com.gh is in possession of a video shared by dancehall artiste, Stonebwoy, that shows the military officer who lost his life together with Ebony, Francis Atisu Vondee, playing a tune on a guitar.
Singing along in the Ewe language, Vondee is seen nodding his head to the rhythm of the song.

Social media users reacted with sadness to the video. Stonebwoy wrote: "@stonebwoybRest In Peace Comrade Vondee. Continue to Guide Ebony And kuri. Ask An EWE person to Translate The Words He Sings.)"

@nanayaa_soregal added that "So touching and the fact that they both chose two of your soulful songs ??".

@etornam_livingstone also wrote "A hero from Volta has fallen again. RIP brother" and @iamchariis tearfully added "Awww Atsu, your twin sister is broken oo??"

On Thursday February 8, 2018, Vondee, was involved in an accident on the Sunyani-Kumasi highway, as he travelled with Ebony and Franky, her Personal Assistant and childhood friend.

All three of them lost their lives as the Jeep in which they were travelling crashed into a VIP bus on the night of Thursday, February 8, 2018.
The driver however managed to survive, and is currently on admission at an undisclosed hospital. Information available to YEN.com.gh shows that Vondee, who was in military uniform at the time of the incident, was not performing official duties.