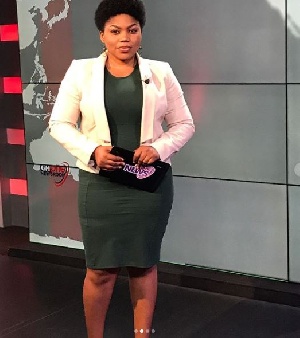 Senior news anchor and producer at GHONE TV, Keminni Amanor has jumped to the defense of socialite Moesha Boduong.
Moesha told CNN's Christiane Amanpour that Ghana's economy is so bad to the extent that women are compelled to have sexual affairs with men just to survive.

Social media users who couldn't stand the actress' generalization have described her as a lazy woman who has dragged the dignity of hardworking Ghanaian women to the mud.

However, the bubbly and experienced news anchor says Moesha's critics are hypocrites.

She continued that Ghanaians are in denial of the fact that most young women sleep with men to gain financial favours.

"Moesha told her reality which reflects that of many young people (not just women) instead of asking how to make things better we are here being holier than thou. Being in denial of this doesn't change it. Feel free to insult me it won't add one cedi more to your account. Our denial will only mean our problem is around longer. Ps: y'all be looking for side chics. Keep pretending", Keminni wrote.
Background

CNN featured Moesha Boduong on an episode of 'Sex & Love Around the World'.

CNN's Christiane Amanpour talked with Moesha Bodoung on the topic "When being a mistress is a financial decision".

"[In] Ghana, our economy is in such a way that you just need someone to take care of you. You can't make enough money as a woman here because even if you want to get an apartment, in Ghana you pay two years in advance and I just started working, where will I get money to pay for an apartment for two years," she told Amanpour in an interview.


Christiane Amanpour: Are you basically telling me that you have sex with this guy essentially to pay your rent?

Moesha Boduong: Because he can afford to take care of you, he takes care of me, my financial stuff: my apartment, my car, my rent, everything.

In return, she said: "He expects me to be loyal and just to date him only and give him sex when he wants it".

Christiane Amanpour: And what if you say no one day, he turns up at your house and you got a headache?

Moesha Boduong: You can't say no, you have to give him what he wants.
Christiane Amanpour: And what if you don't want it [sex] that day?

Moesha Boduong: He's going to think you're cheating on him.

Christiane Amanpour: And does your man have more mistresses?

Moesha Boduong: Yes