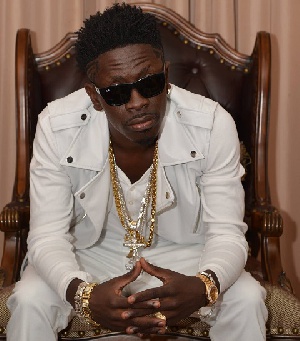 Ghanaian dancehall musician, Shatta Wale, has advised one of his former managers, Mr. Logic, to refrain from pestering him for money.
The "Ayoo" hitmaker also claimed that Mr. Logic has decided to vilify him on radio.

According to a report by Ghanacelebrities.com, Shatta Wale, received the news that his image was being tarnished with surprise, as Mr. Logic, he claims, did little to help him.

It reportedly came to the dancehall artiste's attention that he was being called ungrateful, as he had refused to assist those who supported him when he was a struggling artiste.

Responding to the allegations, he claimed that contrary to the accusations, Mr. Logic, also known as Sterling, did little to help him.
"…I heard Logic talking about me. I want Logic to know that I respected him but I didn't see him as an artiste, so if he's talking about being real, I'm more real than him. The first day Sterling[Mr Logic] called me, I was at Dansoman. He commended me for the kind of songs I have and told me my songs are good and wants to help me. He told me he sees something good in me.

Before Sterling saw me, I had my crew, the Shatta Movement and we were already on the streets doing our own thing so they should stop saying I made Shatta Wale, who he is. These comments are primitive and should be avoided. Before Sterling knew me, I was already Bandana." He stated.

The dancehall musician also revealed that none of the people who assisted him in the early beginnings call him for money.

Sterling on the other hand, he stated, always requests for financial assistance from him.