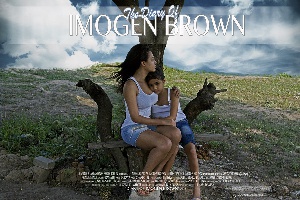 Ghanaian star actress, Nadia Buari has ventured into new area with the new movie, DIARY OF IMOGEN BROWN which does not only see her in the lead role but also sees her taking on the role of Director and Producer for the first time.

The movie which is based on real life events also features her boyfriend, Jim Iyke and her brothers Majeed Sidiku Buari and Jameel Sidiku Buari.


Imogen Brown, a successful business woman who had it all. Such as what most women will wish for, an incredibly beautiful daughter, a great home, a diamond business empire and a handsome boyfriend.


Unknowing to her, her envious boyfriend, Tyler Graham, who had been having an affair with two of Imogen's closest friends, was only interested in her wealth.

After many failed attempts of persuading Imogen to marrying him so he could take over her company, he decides to walk out on their six years relationship. In trying to get over the pain of heartbreak, she meets Stanley Coleman who introduces her to all kinds of drugs and as a result becomes an addict.


See the trailer below for more gist…