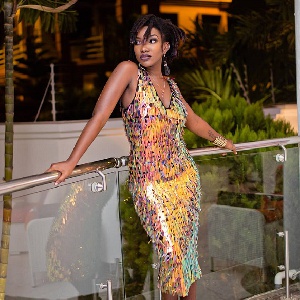 As the family of the late Priscilla Opoku-Kwarteng popularly known as Ebony, prepare to mark the one week celebration of the death of their daughter, the founder of Jesus Generation Ministries, Rt. Rev. Dr. Nana Anyani Boadum, has advised naysayers to desist from saying things that would hurt the memory of the late music star.
The late Ebony and two of her friends, were recently involved in a fatal accident that resulted in their death and since then, opinions continue to divide over the issue which has caught the attention of the nation.

Several consipracy theories coupled with prophesies surrounding the incident; some aimed at taking self glory have been bandied around forcing the renowned teacher, Anyani Boadum, to caution that though some may not "subscribe to the way Ebony branded herself into stardom", he pleads with the holier than thou people to "stop their heartless remarks about Ebony who is now walking the lonely path to enternity and allow her family to mourn their royal."

In an explicit interview with Peacefmonline.com, Rt. Rev. Dr. Nana Anyani Boadum cautioned that: Let those who are passing judgment on this girl and her family, stop for a moment, and pinch themselves- if she was their daughter or sister, what conclusion would they come to? Let us stop rubbing alcohol to the wounds of the family of Ebony if we have no consolation words for them.

He was of the firm opinion that "the heartless insults and needling comments being exhibited by smock pomposity mixed with all kinds of conspiracy theories, should stop."

The energetic young lady (Ebony), according to Rt.Rev.Dr. Nana Anyani Boadum, had suffered a fate which is hard to explain "but I want to plead with the heartless, arrogant and unfeeling people to allow the family to mourn their dead."

The late Ebony and her friends were reported to have died in a gory accident on the Sunyani-Kumasi Highway while returning from Sunyani where she had gone to visit her mother.



As the affected families grieve over the demise of their loved ones, the founder of Jesus Generation Ministries, ponders over why people don't have the heart to stand with those in pain anymore in our society.
Making reference to the Bible, he stated that "You remember the holier than thou Jewish Levites who saw the man who fell victim to armed robbers in Luke 10 vrs 25-37 and left him in cold blood? "It was like this in antiquity and it is still the same. Why is this? The reason for this is that human beings are essentially selfish and egocentric, heartless, arrogant and unfeeling."



Nature of our roads

Rev. Anyani Boadum stated that, it is mind boggling how the death of Ebony has been connected to vague ill-defined religious and spiritual enterpretation. The mind of the entire nation regarding the death of Ebony is warped in superficial connections, diverting our minds from the very poor conditions of our roads. "With this mentality, when shall we progress to be among the civilized nations of the world?" he wondered.

He observed that "after her passing on to the other side, many are those who are sitting in the judgment seat of Christ on this soul nicknamed Ebony." For this reason, he noted that he has problems with those rubbing alcohol in the wounds of the family of Ebony including the latter day saints who have defied the ethics and moral principles concerning prophecy.

According to the man of God the ethics regarding prophecy and the delivery of God's Word considers to a greater extent " the manner in which the prophecy is delivered". To the man of God there is an ethical and a moral line between the "Matter--the Word and the Manner--how the word is delivered. That ethical and moral line must be respected at all times.



The man of God said even though the young lady displayed some "poor" manners on stage which could tie to her own confession of being a bad girl (Graphic Showbiz news, 3.4.2017), the man of God was however quick to add that Ebony could have adopted a different brand of fashion and still achieve her aim since she had a unique talent.
Dr. Anyani Boadum continues that we now hear biting and sarcastic statements that links Ebony to bad parenting. The family is also being accused of using Ebony as the milking cow of the family, whilst some Men of God attributes her death to the fact that Ebony was a bad influence on society for which reason God killed her.

"The belief that God killed Ebony because she was a bad influence on society, creates more questions in my mind", The revered man of God asked "Where was God when her colleague singers and some celebrities blasphemed the holy name of God"? I know quite a few of them who had insulted the Christian faith and said blasphemous things about Christ and his church. Those who ridiculed the name of God are still alive; God did not kill them", he quizzed.



Some of her colleagues according to the man of God has confessed that they don't wear panties when they are on stage whilst some show their genitals on stage. "Are they not bad influence on society"? Some of them are smoking all kinds of weeds in public and on stage in front of the youth. Are they not bad influence on the youth. May be God don't see them. Maybe God's selective justice fell heavily on poor Priscilla Opoku-Kwarteng. Who would be next Rev. Anyani Boadum asked.

According to the Senior Pastor of Jesus Generation ministries if even Ebony had accepted Christ and joined a church it may have taking her some time to stop the lifestyle that she now stands accused. I think every bible believing Christian knows that justification is a one time act of God, sanctification is a continual process until you are taken to be with the Lord. How many of us in the church are totally perfect before God? Are we not still pressing towards the mark to conform into the image of Christ?

To those who attribute the gory way Ebony died to God's judgment, Rev. Anyani Boadum has the following question for them. "How would you interpret the gory and strange ways some notable men and women of God also died in this Country"?



Does God take pleasure in the death of sinners?
The man of God questioned the role Bible believing churches played in the life of Ebony before her death.

He backed his question with words in Ezekiel 18 vrs 23 which says 'Have I any pleasure at all that the wicked should die? saith the Lord God: and not that he should return from his ways, and live?'

Dr. Anyani Boadum gave an assurance that "yes God is still committed to his word hence he sent Christ to die and made atonement for our sins. The death of Christ on the cross means everyone on earth could be saved but it doesn't mean salvation, is automatic for everyone. The Church of Christ therefore is and should be the vehicle to reach out to those who are not saved."



The conscience of the backsliding church in Ghana according to Rev. Anyani Boadum must be awoken to her primary call by putting the agenda of soul winning upfront and stop acting as merchants of God. Why is the church not reaching out to sinners, knowing that sinners dont go to church on their own accord? Where is the witness movement of the church? Why do we live sinners to their fate only to pass judgment on them when they are dead?

Churches these days are doing "recycling of worshippers" from one church to another whilst some of them are doing "sheep stealing" from other churches. In doing all this, sinners are perishing he said.

Witchcraft and the Entertainment Industry

According to Rev Anyani Boadum most people in the entertainment industry as well as those involved in various sport disciplines are deeply involved in the occult due to the competitive nature of their profession and their quest for fame which could be to the detriment of their souls due to slippery nature of the occult realm. There is so much envy amongst them which can also result in witchcraft.
But what effort is the church making to evangelize such people? Is this indictment not true concerning some church leaders who have also sold their souls to the devil for fame?

According to Rt Rev Dr. Nana Anyani Boadum "after the prophesy that the Ebony would die, the best direction 'akwankyer3' should have been witnessing her to surrender her life to Christ for salvation." but she was deceived to consider sending gifts to an orphanage as if to overturn the death spell on those poor children.

The Day Death Visited The Seer

According to Rev. Nana Anyani-Boadum there was this man who had the gift of telling the next person to die whenever he attended funerals. He had a third eye that sees a dark shadow on the next person to die. Whenever the shadow appears on you, he will walk slowly to you and tell you " to put your house in order because it's your turn to die" One day after a funeral service in the town, he looked through the realms of the spirit to see the dark spot on someone's head but it wasn't on anybody's head. What he didn't know was that the dark shadow was on his own head.

One day it shall be the turn of every one to die so let's all put our house in order.

He ended by noting that if you don't care about the pain the family of Ebony is going through, let's shut up and let the family mourn their dead.

Adieu! Priscilla Opoku-Kwarteng and those who died with her.

Rt Rev Dr. Nana Anyani Boadum