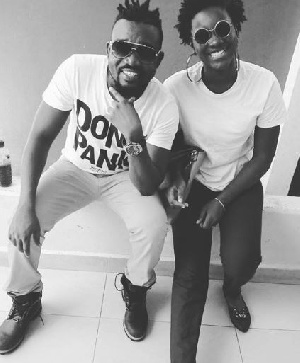 Bullet who happens to be the CEO of RuffTown records has called out on all those who're putting pressure on him to sign another female artiste to replicate the late Ebony Reigns to stop their pursuit.
According to him, the same Ghanaians who claimed it was too early to introduce another artiste after Ebony Reigns died have called on him to sign an artiste who sings just like Ebony Reigns.

Born Ricky Agyeman better known as Bullet in a post on social media noted that when he introduced Wendy Shay, he was criticized for that move adding that Ghanaians have tried their best to discredit her and her efforts but keep asking him to sign other people.
"So lately i have been getting messages on my phone and inbox,lot of people are asking me to sign a girl who talk and sing like my late artist ebony reigns and this had got me thinking.these are the same people that said bullet was too quick to bring out a new artist, and these same people been attacking my new artist wendy shay saying she is trying to sing and act like ebony reigns even though y'all know she is different.If you guys are attacking wendy shay cos you claim she is trying to be like ebony reigns then why are you all forcing me to sign another artist who sing and talk like ebony reigns?chale we for stop this hypocritical life oo".l, Bullet posted on Instagram earlier today.