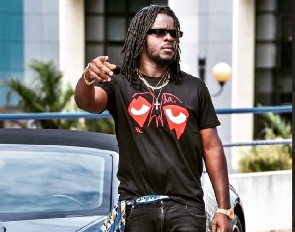 Ghanaian Reggae and Dancehall musician, Michael Okine, known chiefly as Jupitar, has alleged that Ga-speaking artistes have been sidelined in the entertainment industry.
He said, despite their talent and hard work, these musicians including himself, have suffered a great deal from what he termed as tribalism in the industry..

"This whole industry is a set up and if you be "Ga" like myself, @shattawalegh, @IamKingPromise or @dkbghana etc certain kinda support you go suffer or you no go get kraaa no matter the effort," he wrote in a now-deleted tweet.

Although his comment has faced stiff opposition, some entertainers like comedian DKB have sided with his claim.

In response to the viral tweet, DKB wrote: "Oh Anyemi! The tribal agenda and caucus we know them. We won't stop fighting them. GA's will arise! Am3ny3m333 atotomi."

Jupitar in a retweet wrote: "This must stop, time they stop treating GA's like we are not Ghanaians… it's enough!
The Dancehall singer also called out some media houses for being selective when it comes to supporting artistes.

He said: "If you are a Ga, nothing you can do to impress them."

Check out the tweets below:


This must stop, time they stop treating GA's like we are not Ghanaians… it's enough !!!! https://t.co/TfQDhKfVyH

— Jupitar_General (@JupitarOfficial) January 20, 2023
If you are a Ga, nothing you can do to impress them, https://t.co/281su6oxYH

— Jupitar_General (@JupitarOfficial) January 20, 2023
Was the first Ghanaian artist to ever grace this stage and the media was mute about it, I remember last year I had an event and @Hitz1039FM and some foolish boy made some foolish statements and yet they refused to acknowledge all the great achievements… God go punish you ppl pic.twitter.com/kT8LF5EUrS

— Jupitar_General (@JupitarOfficial) January 20, 2023
They call me lazy when they don't even know a song on my 20 tracks album ..the always pin my comments to a particular artist when I'm fighting for equality… but they know im the best at what I do with or without media support, Chale we just no want make noise.. tour23 soon!

— Jupitar_General (@JupitarOfficial) January 20, 2023
My guy, have you ever supported my works before ??? https://t.co/VJCA6jP0Tm

— Jupitar_General (@JupitarOfficial) January 20, 2023
Chale stay your lane yeah… you don't owe me shit, so just stay your lane, that your disrespectful lifestyle keep it away from this side… just some little advise https://t.co/Eo9iVtYsFa

— Jupitar_General (@JupitarOfficial) January 20, 2023
OPD/EB