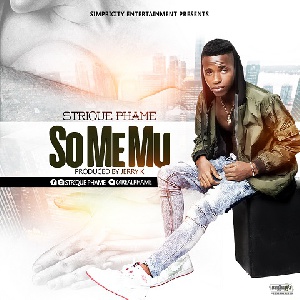 Tue, 22 May 2018 Source: Prince Komla Dowetin
Sensational artiste, Strique Phame of SimpriCity Entertainment after his previous hit song "Lean On Me" produced by Dj Frass comes with a new afrobeats tune titled 'So Me Mu'.
'So Me Mu' and 'Me Dehye3' are two new singles from Strique Phame and were both produced by Jerry K.

The lovable song 'So Me Mu' touches heavily on love and affection needed in every relationship.

Born Frank Adzamli, Strique Phame drives his style of music from his emotions, from things that happen in the society, both physically and spiritually.
Strique Phame is a Ghanaian music artist from Peki in the Volta Region of Ghana.

Listen to 'So Me Mu' below.


Source: Prince Komla Dowetin