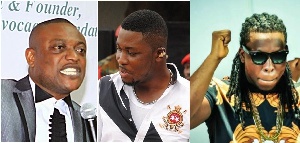 The debate on the payment of the fees got re-ignited when news broke few days ago that Chief Justice, Gloria Akuffo had established 11 special TV Licence Courts across the country to try defaulters of the licence fees.
Celebrity lawyer, Maurice Ampaw has said those who will refuse to pay their TV licence are fools.

He said it would be wise for Ghanaians to pay the fee and be free than to be hauled before court which would bring more expenses.

Ampaw who didn't take it likely on a recent call by A Plus and Edem influencing Ghanaians not to pay for the TV licence said they are promoting lawlessness in the country.

"For Edem I'm sad about his reaction against the TV licence law because he's my student, I taught him law so I expect that he portrays similar deeds as I do. He's suppose to be law abiding. A Plus, he's my younger brother and I don't like what he's doing.

"When you do that how can you advise someone doing something similar. There's a better way of using the appropriate channel to express your opinion but using radical, revolution means is not acceptable in a law abiding country like Ghana. A Plus and Edem are promoting anarchy and should be brought to book.
"My worry is that those who are calling for people not to pay the licence are not helping society because there is a way you can educate people to be law abiding and at the same at fight for their rights." Lawyer Ampaw told Zylon FM.

The angered lawyer expressed his sentiment with regards to how certain influential individuals are ignorantly throwing dust into eyes of their followers yet knowing the right thing to do.

"If we're not careful as a country, the level of indiscipline and anarchy is dangerous since the citizens prefer to choose what they want and what they don't want so the law doesn't matter. If we heed to these tensions then as a country we are doomed."



The TV License Fees established by the Television Licensing Act – 1966 (NLCD 89) were re-introduced in 2015 to charge fees from individuals and groups that own television sets.
The license fee has been put into three categories. The first category is the domestic use which charges GH¢36 per television set and GH¢60 for two or more TV sets in the same house.

TV set repairers and outlets shall pay GH¢60, while TV dealers pay GH¢120.

The Ghana Broadcasting Corporation (including GTV) which has been mandated to do the collection of the fees will take 72% of the revenue.

Ghana Independent Broadcasting Association (GIBA) gets 15%, National Media Commission (NMC) – 4%, Media Development Fund – 4%, the Management of TV Licence Fee (GBC) gets 3% and Films Fund also takes 2% of the revenue.

Background
Rapper Edem seems not pleased with the establishment of Television court to jail defaulters who fail to pay their TV license.

The 'Nyedzilo' hit singer took to his twitter handle to communicate his displeasure concerning the license, saying the State Broadcaster should rather lead in the payment of musicians royalties and not force the populace to fund the state broadcaster.

Edem asks GTV to close down if they cannot stand the competition from private television stations.

"If national TV can't face the growing competition on the television or in the media industry please close down..," he tweeted.

"Don't siphon money from us in the name of TV license. Instead of spearheading the payment of royalties, u want to rip us off.. Such a shame," he added.
Controversial musician and sympathizer of the governing New Patriotic Party(NPP) Kwame Asare Obeng aka A Plus has cautioned the government against the prosecution of persons who fail to pay their mandatory television licence fees beginning January 4, 2018.

But A Plus in a Facebook comment, argued that the controversial fees being charged doesn't make sense, adding that the government will be digging its own grave if it allows the prosecution of defaulters to proceed.

"What is on GTV that anyone must go to jail for not paying to watch!!! First it was tow levy. Now it's this nonsense. I will never pay!!! 2018, I will organize a demonstration against TV license. I want to be the first to go to jail for not paying TV license. Ghanaians are under pressure already. Bring this nonsense and jail them and see what will happen in 2020. Abi you remember the motor court? Nkwasiasem nkoaaa!!! Go on!!!"