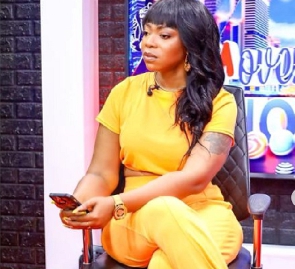 Singer and TV personality Diamond Michelle Gbagonah, alias Michy, has advised her fans, especially the females, not to rush through life, making decisions in the moment, only to suffer unforeseen repercussions in the future.
Michy and her son, Majesty, appeared on Accra-based TV3's The Day Show hosted by Berla Mundi, on Monday, January 16, 2023.

She was asked what her future plans are for herself and Majesty.

Answering, she said: "It's a lot. We're hoping for the best. Life has to be smooth throughout. We have life so everything is possible. I want to touch people so I am praying for the finances to be able to do that."

"I have too many kids looking up to me, and I'd love to tell these young ladies, 'Take your time!'," Michy quickly added.

"Take your time with the tattoos," she said, as if to explain. "Take your time with the piercings, take your time with the relationships..."
Asked how many tattoos she has, she reflected awhile and answered: "Three."

Berla wondered if she regretted having that number of tattoos.

Michy responded with a story about how she was denied a dream job because of the images on her skin.

"I don't really regret having them but at a point, I did Cabin Crew Training to be a flight attendant – I'm actually a certified flight attendant but you're not supposed to have tattoos, or you can have them but not visible [while you're] in your uniform," she explained, and lifting her left arm, added: "But this is huge, you know."

"Like I said, life changes at each point so we have to make sure that the decisions we make today, don't affect our tomorrow because you really don't know what's coming tomorrow so it's better to be on the safe side," Michelle noted with an air of profundity.
"So take your time," she stressed in conclusion.

During the interview, Michy revealed her son's favourite song from his father's repertoire is 'Dem Confuse'.

Majesty, 7, is the son of Ghanaian Reggae/Dancehall star Shatta Wale.