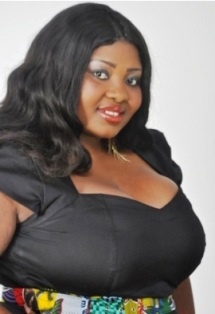 Fri, 21 Sep 2012 Source: viasat1
One of Ghana's rising actresses, Belinda Sefakor Dzata, has confessed to having succumbed to pressure from her family and friends to 'forget' taking part in the Big Brother Africa reality show.
The actress said she had always fantasized about being in the famous Big Brother house, and even auditioned once but failed to make it through. This, she said, was in 2009, for the Big Brother Revolution, which Ras Wayo was chosen.

A very disappointed Belinda had vowed to audition again the following year, but completely lost interest after her friends and family talked her out of the decision.

"My mom told me she will disown me if I ever stepped a foot in the Big Brother house", she said. Furthermore, Belinda said majority of her friends discouraged her from the competition, with some even telling her it will be difficult for her to have a husband when she returns home.

Belinda, having a strong Christian background, eventually succumbed to the pressure. "My mom is a religious leader, while my uncle and grandfather are all strong Deeper Life elders. Most of my family members attend Deeper Life; I seem to be the only one who is Charismatic", she said.

Belinda believes a Ghanaian would've won the competition by now if she had ever had the opportunity to represent Ghana. "I am fun to be with, I tolerate people a lot, I'm a nice person, I'm gifted, people like me wherever I go, and I relate to everybody equally".
Belinda, who clearly has a sense of humour, is still contemplating whether or not to audition for the next Big Brother Africa reality show.

Belinda, who has quite a number of movies to her credit, started auditioning for onscreen acting roles at age 10. Oblivious of her acting abilities, she was utterly scorned and never given a role until 2003 when Revele Films, one of the internationally acclaimed Ghanaian film makers; discovered her in one of their auditions.

She was played the role of a nurse for the then "Home Sweet Home" television series. In no time, her fame started soaring.

The CEO of Venus Film, Mr. Abdul Salam Mumuni "movie stars maker" welcomed her into his production outfit. Since then, she has featured in Venus Films block buster movies such as Beyonce, Chelsea, 4 Play, Strippers, The Prince Bride and Elmina by Revele Films and still counting.

Currently, Belinda is the gluttonous female maidservant character in the TV series 'The 5 Brides' which shows Mondays at 8pm on Viasat1.
Source: viasat1