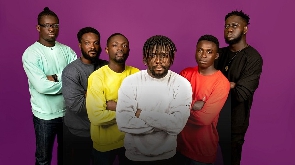 The Bank Fra, a Ghanaian music band, has been making waves in the music industry for its unique sound and style.
In an interview with Paula Amma Broni on Talkertainment, the band members disclosed the kind of songs they compose, shedding light on their creative process and musical influences.

According to the band members, their music is a blend of different genres, with a strong influence on highlife music.

The Bank Fra takes this traditional Ghanaian music genre and blends it with other genres like jazz, pop, funk, and afrobeat, creating an afro-fusion sound that is both unique and captivating.

"Our song is afro-fusion, dominated strongly by highlife music. Highlife is like the bedrock and we fuse it with various genres, jazz, pop, funk, afrobeat, you can name it," said one of the band members in the interview.

The band's name, 'Fra,' which means 'mix' in the Akan language, reflects their eclectic musical style.
The Bank Fra has released several hit songs, including "Di Mi Mu," "Rabbi," and "Krokor," which have gained them a loyal fan base both in Ghana and beyond.

Their music is not only catchy and danceable, but it also carries a message.

The band's lyrics often touch on themes such as love, social issues, and Ghanaian culture, which resonate with their fans.

The Bank Fra aims to use its music as a tool for social change and to promote Ghanaian culture and traditions around the world.


Watch the latest episode of Talkertainment below:





ADA/BB