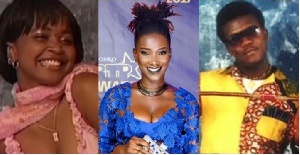 So we woke up on Friday to the news of the death of Dancehall musician, Ebony Reigns on the night of Thursday, February 8.
Ebony had died in a gory accident somewhere along the Sunyani-Kumasi road where she was visiting.

Ebony had visited her mother, Beatrice Oppong, and was returning to Accra to prepare to prepare for trip abroad in two days.

But the Jeep she was travelling in collided with a VIP killing three out of the four people on board.

The Dancehall diva's rise to fame, her sudden and tragic death, has brought to memory some of Ghana's promising entertainers whose careers were abruptly ended under similar tragic circumstances.

Just like Ebony, Bonchaka, born Terrence Nii Okang Mensah Adjetey, had burst on the music scene as young artiste and taken it by storm as he was the most sought after artiste at the time of his death.

Bonchaka died in an accident in the early hours of October 30, 2003 aged 21. His car hit a tree on the Madina-Legon road. He was returning from a musical concert he headlined at the University of Ghana campus.
Though he was only active in the music industry for just about two years, he made a lot of waves with his 'old school' dressing and 'poulele' dance.

Suzzy Williams on the other hand, was one of the best young movie stars in Ghana when she died on September 8, 2005.

She was featuring in almost every major movie in Ghana at the time and at just 23, her best was yet to come.

But she lost her life under tragic circumstances on the La-Teshie Nungua road. It is not really known her destination but reports at the time suggested she was on a 'chilling spree' with her 'boyfriend'.

The fact that Ebony, Terry, and, Suzzy dying very young, 20, 21 and 23 respectively, through road accidents is obvious. It is also obvious that they died at the height of their careers.

However, while the above similarities about the deaths of the three are very clear to note, there is one common thing about them that you likely did not know.
All of the tragic deaths happened on a Thursday.

Left wondering what is it about these 'Thursday tragedies', YEN.com.gh did some checks and realised that 'Yawoada', the Akan name for Thursday, is a contraction of 'Yaw (pain)' and '3da (day)'. So if one wants to do a literal translation, it would be 'Pain day' or 'Day of pain'.

Though this is is not to discount the fact that bad roads and reckless driving may have played their parts in causing these accidents, it is quite weird to realise that all of these tragic deaths happened on Thursdays, though years and locations part.