Highlife musician Daddy Lumba and gospel singer Isaiah Kwadwo Ampong (Great Ampong) have reignited their 7-year-long feud.
What started as a good working relationship between the two musicians transcended into a rift with 'money' being at the center of it.

To date, greed and deceit are the words that Ampong, who is still grappling with bitterness, best describes his nemesis, Daddy Lumba.

It seems, both sides cannot let go of the situation as Daddy Lumba, who has been accused of bolting with funds accrued from their 'hard earned' project has also creeped out with indirect attacks and even a diss song.

Here is an article by GhanaWeb that seeks to give a breakdown of how Ampong and Daddy Lumba's relationship was destroyed.

How the Hossana album brought the gospel musician and highlife musician together

In 2015, Daddy Lumba and Kwadwo Ampong formed a group called 'Kojo Kojo' to release an album titled "Hossana".

The 8-track album consisted of songs including 'Hossana', 'Father and son', 'Jesus is a winner' 'Wo din no ye kese' and many others.

The call to action, however, was by Daddy Lumba who claimed to be an avid follower of Ampong and his songs.

"He called me on phone and told me that he is a fan and that he loves my music so he'd want us to work on a project. He invited me over to his house and we had a discussion about the song. It was all meant to give thanks to God for his life," Great Ampong maintained in an interview with Delay in 2016.



Ampong reportedly wrote eight out of the ten songs on the album but failed to register them in his name
In an interview with Kasapa FM's Kojo Preko in 2016, Ampong admitted to not owning the rights to the album although 8 out of the 10 tracks were written by him.

He explained that his busy schedule made it difficult for him to do such, adding that he will do so when he gets ample time.

This was after the host asked why he failed to register the eight songs.

"It's mine, although I haven't gotten the time to register them, I still count it as part of my intellectual property. I will register them soon. Unfortunately, our systems are a bit complicated," he stated.

There was a 60/40 agreement on all the proceeds of the songs

Ampong maintained that even before the launch, he and Daddy Lumba agreed that they would split the proceeds, 40%, and 60% respectively.

Ampong said Daddy Lumba initially suggested a 50/50 equal cut, but he (Ampong) insisted on a 60/40 split because Lumba was the eldest.

This agreement, according to Ampong, was a verbal one. No written contract was formed between both parties.

"We also spoke about the proceeds from the song and he said we will have an equal 50/50 split. I even told him that he is the eldest and that I do not want to share things with him equally, so I proposed a 60/40. It was all a verbal agreement. Also, he wasn't well at the moment so the idea of signing a written agreement was not on my mind. My idea was totally different. God is the only witness to everything. Including where we had the 60/40 verbal agreement," he stated in an interview with Delay in 2016.




Daddy Lumba perfoming at an event
Ampong introduced Lumba to his pastor, Rev. Badu Kobi, who permitted the album launch in his church

Ampong was said to have introduced Daddy Lumba who was battling some health crises at that time to Rev. Badu Kobi.

This, however, resulted in Lumba being gifted a convertible Mercedes Benz by the man of God who also anointed and prayed for him.

The pastor was said to have also permitted the launch of their album in his church.

"I introduced him to my pastor, Rev. Badu Kobi and he gifted Lumba a convertible Mercedes Benz. Papa prayed for him, prophesied, and anointed him. Lumba at that point even said he will take time off highlife and focus on the gospel till further notice. So papa led us to launch the event at his church and everything went on well," Ampong told Delay in an interview.

How Daddy Lumba reportedly bolted with all the proceeds from the album launch, CD sales, and cheques

Great Ampong stated that after they successfully launched the album in the church, Daddy Lumba left with the proceeds from the event which he hid in his car boot.

Narrating the interesting circumstance under which he was cheated and tricked, Ampong told Delay:

"After the launch I was interacting and taking pictures with my friends and mates who I haven't seen in about ten years. My brother-in-law then approached me and told me Lumba just sped off in his car. So, I quickly rushed backstage where they were counting the money and they told me that they had poured the money into a jute bag and Lumba kept it in his car boot.

"I waved at the car and he stopped. The only thing he said was God willing tomorrow. That was the last time I saw him. There was a period in December 2015 when I called him and he kept on tossing me. So, one day I picked up my phone and informed him that I will never call him until Jesus comes.

"When I made the necessary calculations, the money we accrued at the launch amounted to GHC2.2billion. that's not all, we sold CDs of about 20,000 copies and each CD was sold at GHC7.00. The total cost of the CDs was GHC1.4 billion. So, we made about GHC3.6 billion. Also, people gave out some cheques at the launch but he has cashed everything out. I never had my share. Not even a cedi."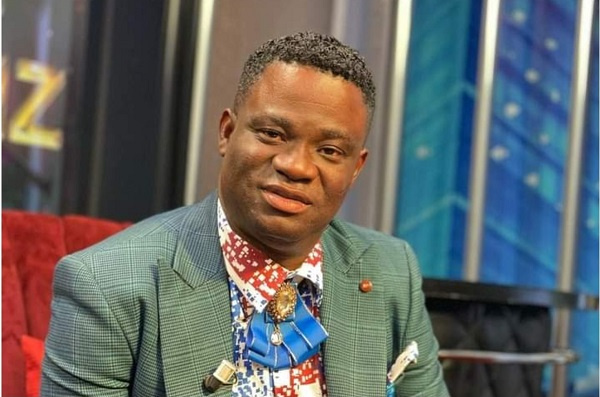 Great Ampong

Legal involvement

Ampong, who claims to be the victim in the development, ruled out seeking legal redress.

"I haven't reported the incident to the police. I want to handle this myself. He is a cheat and everywhere I meet him, I'll take my money. I could grab his clothes and attack him for my money. If I meet him at an event, then that particular show will scatter," he established in an interview with Delay.

Beef resurfaces in 2022/2023 with the release of diss songs and cryptic messages

Daddy Lumba released a diss track titled 'Ofon nae di asem fo' which was accompanied by a stern warning to a detractor.

"That useless individual, I am not done dealing with him," Daddy Lumba said while unveiling the song on DL FM.

Analyzing the contents of the song, netizens concluded that it is targeted at Ampong while others thought it was directed at Joy Daddy Bitters CEO who asked Lumba to return a car he gifted the musician. The businessman had in a video alleged that Lumba failed to perform at shows organised by his firm although the musician had taken an amount of money alongside a car from the company.

However, Isaiah Ampong, said that the song was directed at him rather.

Touching on the said song, Ampong said someone from Lumba's camp, gave him a hint about it in 2018.


Ampong who claims that the battle line has been drawn said he is done 'cooking' his diss song and will release it very soon.

"Sometime in 2018, a young man came to me and told me that his boss is recording a diss song for me. He told me that it won't be long, I'll hear of it. He said Daddy Lumba was recording a diss song for me and Roland (Roro), my music producer. So I had the hint already and I was looking forward to the diss song and now it's here. He will hear from me very soon. He will definitely hear from me. This is going to be the beef of the year.

"My mother told me to stop and you can recall that since then, I haven't even uttered a word. But as he has released a diss song, the battle line has been drawn. After stealing from someone, the thief is angry even when the victim is not. I'm done with the diss song because I don't suffer to write songs. I am not a coward, I have been through a lot so I am much bolder," he stated in an interview with Happy FM.

A number of music lovers, through various social media platforms, have indicated their readiness to listen to Ampong's full song after snippets surfaced online. Some have, however, entreated him to call it quits considering that he is a gospel musician.



Here's Daddy Lumba's diss song, titled 'Ofon Na Ɛdi Asɛm Fo'



EB/BB