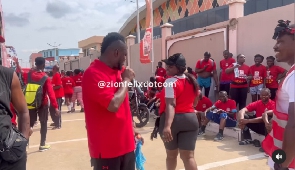 There were some intriguing scenes at a health walk organized by Funny Face, including an instance the comedienne cum musician spotted a lady whose backside caught his attention.
The comedian had grabbed the microphone at a point to address the crowd but his attention was stolen for a moment by a thick lady with a heavy backside who passed by.

Funny Face who couldn't take his eyes off the said lady ended up passing comments about her buttocks.

"Hello, if you're here wave your hands, (Pauses as the lady walks past him) ...You're are passing with buttocks, let me focus," he said in jest while staring at her backside and looking back at the crowd.

This was captured in a 15-seconds viral video which has sparked public reactions.

One can recall that when Funny Face's mental condition deteriorated sometime in 2021, he emphasized how his first wife Elizabeth Agyei, and baby mama Vanessa, who were both endowed with huge butts caused his downfall.
Elizabeth, a thick-tall curvy policewoman, was said to have cheated while they were married and while their marriage was on the verge of collapse, she alleged that Funny Face was a two-minute man (weak in bed).

`In the case of Vanessa, another curvaceous young lady, she reportedly fled with their twins after accusing Funny Face of abuse and maltreatment.

This led Funny Face to vow not to engage women of such stature any longer.

My love for my children led me into depression, not buttocks – Funny Face

In a recent interview with Andy Dosty on HitzFM, Funny Face made a U-turn on his earlier claims of battling depression as a result of betrayal from some two heavily endowed women.
"Buttocks didn't take me into depression. The love of my children took me into depression, do you understand? I was so crazy about my daughters to the extent that, when they were crawling and they fall and cry, I cry too. Naturally, I'm emotional…I love people's kids deeply, how much more my own. And they were twins too," he stated.

Watch the video below:



You can also watch some of our programmes below.






EB/BB