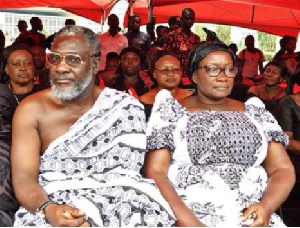 The late Ebony's dad, Mr. Kwaterng has said in an interview on Peace FM that, he wishes he could get more of the money than he has received so far. He was speaking to Akwasi Aboagye on his Entertainment Review program today April 24th, 2018.
Mr. Kwarteng who was in the studios and made some revelations while making some demands as well. It must be noted that, he had indicated that there was a lot he was going to say after the funeral of her daughter and this perhaps is one of the many things he wanted to say.

Akwasi Aboagye during the course of the interview asked him if he's made enough after the funeral of her daughter.

He responded by saying that, his daughter Ebony was priceless and that he wishes he could get more. He added that his doors are still open for more.

"The money I got from #Ebony's funeral is not worth it. My daughter is priceless. I wish I could get more than that all because my daughter is priceless so with that my doors are open for more" –Nana Puku Kwarteng on Peace FM"

Well, some Ghanaians are pissed about this statement he made on the station and have expressed their disgust on Social Media site, Facebook.
He also mentioned in that interview that, he's waiting to get revenue from Bullet because he's heard her daughter made money on Youtube and other online portals as well.