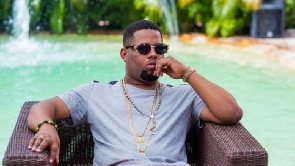 Ghanaian rapper and entrepreneur, Desmond Kwesi Blackmore, also known as D-Black has advised his fellow artistes and creatives in the industry to be mindful of how they market their craft to the public.
In a video shared on his X (formerly Twitter) handle, D-Black, in an interview highlighted the need for artistes to recognize the changing nature of the industry and the essential role marketing plays in their success.

He stressed that merely creating good music is no longer sufficient and that artistes must actively engage in self-promotion through social media platforms.

"People need to understand that the industry has changed, it's evolved. It's the business. The artists and creatives need to understand that the music alone is not enough. You need to get up and grind.

"You need to take your phone, get on your social media and upload that studio session to let people know. Market it, boost the post, upload it on YouTube, and Put the adverts on it. Create content," he expressed.

He further gave more steps on what artistes can do to improve their social standing, adding that there is massive competition in the industry and that marketing is the key to success in the music industry.
"Make sure you book interviews, do shows, show up for interviews, be in their face, the music is not enough, there's always a better singer than you, there's always a better producer, there's always a better DJ, your marketing is the key to success absolutely," he said.

D-Black's comments come at a time when there have been widespread discussions as to what could be done to ensure growth in the music industry in Ghana. Many stakeholders have blamed creatives for being lackadaisical in promoting their craft. While the creatives have called for less trolling and more support from the public.

ID/BB

Click here to follow the GhanaWeb Entertainment WhatsApp channel


Ghana's leading digital news platform, GhanaWeb, in conjunction with the Korle-Bu Teaching Hospital, is embarking on an aggressive campaign which is geared towards ensuring that parliament passes comprehensive legislation to guide organ harvesting, organ donation, and organ transplantation in the country.

Watch the latest episode of Everyday People below: