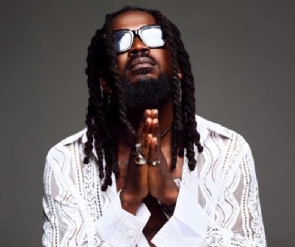 Popular Ghanaian Reggae/Dancehall artist Samini has shared his thoughts on President Akufo-Addo's performance in light of recent global crises.
He acknowledged the challenges faced by the president, particularly due to the COVID-19 pandemic and the Russia-Ukraine conflict, which have negatively impacted economies worldwide.

Talking to Berla Mundi on the "Day Show" on TV3, Samini expressed his respect for the president's efforts in governing the country during these tough times. He noted that the past four years have been challenging for President Akufo-Addo because of these global events that affected everyone.

"I think it was an unfortunate 4-year period for him due to what happened globally, which every economy complained about. These are the aftermaths of COVID-19 and the Russia-Ukraine war. It has affected everybody," he said.

Commenting on the issue of corruption in politics today, Samini mentioned that very few individuals, if any, are entirely free from it. He believes that some people manage to maintain a clean reputation and integrity despite the temptations, but corruption has touched many in the world of politics, whether they admit it or not.

"Nobody is free from corruption in today's governance. Well, there are certain few people who would try to navigate governance without any stains on their record because of their own self-esteem and social status, but people are tainted, whether they acknowledge it or not before the day is over," he said.
ID/BB

Ghana's leading digital news platform, GhanaWeb, in conjunction with the Korle-Bu Teaching Hospital, is embarking on an aggressive campaign which is geared towards ensuring that parliament passes comprehensive legislation to guide organ harvesting, organ donation, and organ transplantation in the country.

Click here to start the nomination process for the 2023 GhanaWeb Excellence Awards

Watch the latest episode of Everyday People on GhanaWeb TV below: