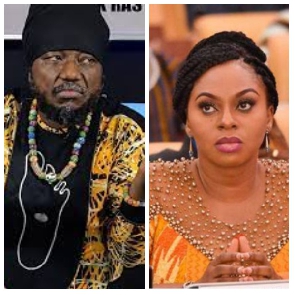 Controversial musician and radio personality, Blakk Rasta has lambasted the embattled Member of Parliament for Dome-Kwabenya, Sarah Adwoa Safo for sharing yoghurts to some people believed to be her constituents.
He slammed the people for accepting her yoghurt and suggested that they should have slapped it on her face instead.

Speaking on the UrbanBlend Show on 3FM, which was monitored by GhanaWeb, on September 19, 2023, Blakk Rasta rebuked the people who accepted the yogurt from Adwoa Safo after she abandoned them to attend to her family issues.

"People of Dome-Kwabenya, all of you who accepted that yogurt you are calves. Do you know what a calf is? The baby of a cow. You are still drinking milk, rotten milk aka yoghurt. Not even any proper milk. If you guys accepted this and you did not tell her right in the face that Madam, go to hell with your yoghurt. Get out of here," he said.

"That is what they do to you. They can hurt you as much as they want, slap you as much as they want and when elections are coming, they know how to get you, they will give you yoghurt.

"If they can't find yoghurt, they will give you that thing that the President was drinking, Kalypo. Do we respect ourselves? Are we ready to walk up to the politician and tell him straight in the face, hey, we are your employers, respect us, if we continue taking yogurt from dirty politicians, my brother, how would they ever respect us?" Blakk Rasta fumed.
Background

A video emerged online of the Member of Parliament for Dome-Kwabenya, Sarah Adwoa Safo, serving some people at a public space believed to be in her constituency.

In the video shared on Twitter (now known as X), the MP is seen personally sharing snacks to some of the people seated under a canopy.

With a tray in hand, and with the help of some women standing around her, Sarah Adwoa Safo collects some frozen ice-creams and then moves towards the people seated not too far from her to serve them.

While it is unclear what event that was, it is worth noting that the Electoral Commission of Ghana has started a Limited Voter Registration exercise to allow for persons who turned 18 years after the last registration exercise to get registered.
In a post on her page on Facebook, the Dome-Kwabenya MP advertised the activity with a flyer, urging all eligible persons in her constituency to go and get counted.

The exercise, which started on September 12, will end on October 2, 2023.

A few days ago, Adwoa Safo apologized for her prolonged absence from Parliament. Some have argued that she apologized because she wants to be re-elected.

BS/BB

Ghana's leading digital news platform, GhanaWeb, in conjunction with the Korle-Bu Teaching Hospital, is embarking on an aggressive campaign which is geared towards ensuring that parliament passes comprehensive legislation to guide organ harvesting, organ donation, and organ transplantation in the country.
Click here to start the nomination process for the 2023 GhanaWeb Excellence Awards

Watch the latest episode of Nkommo Wo Ho on GhanaWeb TV below: