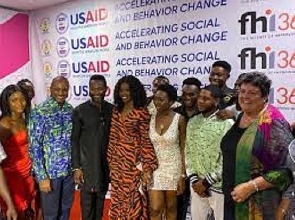 The You Only Live Once (Yolo) educative youth television series, which is also a sequel to "Things We Do for Love" was premiered on January 20, 2023 at the Silverbird Cinema.
Fans who have been waiting for four years after season five ended in 2019 couldn't hide their joy when it was announced that, season 6 of Yolo will be premiered. Out of curiosity, the Yolo fans went to the premiere in their numbers to know what to expect in the television series.

Attendance to the premiere last Friday included some cast of the series like Cyril, Emily and "Odenkyem". Renowned actors such as Jackie Appiah, Majid Michel and Adjetey Anang also graced the event. The founder and Chief Executive Officer (CEO) of Farmhouse Productions, Ivan Quashigah was also present.

The United States Ambassador, Virginia Palmer was also at the premiere since the television series have been in partnership with USA for a while now. She applauded the casts and producers of the show for acting as role models and ambassadors to promote health and other matters.

Adjetey Anang was given the platform to share his experiences and according to him, he is very happy concerning the journey they are embarking on and because of these programs, people reach out to them for advice on stories or episodes they are related to.

The series is known to lay much emphasis on health. It continued to promote such initiative in its season 6 thus some health education that was depicted in the series were Covid-19, maternal and child health.
The Chief of Staff of the president's office, Frema Osei-Opare was the special guest for the premiere. She shared her thoughts on Yolo and stated that, the series truly plays a role in the lives of the youth.

"Yolo obviously speaks to the youth and even the atmosphere in the room tells you we are already reaching them and speaking their language," she said. "We are setting the kind of environment they are used to and therefore it portrays a more meaningful approach to learning about life. Right now, we are looking at Covid-19 and even the mode of communication shows that we are really speaking their language and that is very helpful".

During the premiere, it was said that season 6 of Yolo will hit the television screens soon. Also, the series would be found on Farmhouse movie app and its YouTube channel.

ED/BB