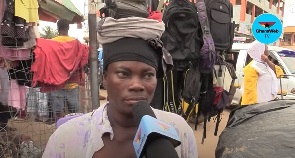 Life sometimes has a way of making our choices the biggest mistakes of our existence on earth.
However, we are allowed a second chance to correct some of these mistakes.

This is the story of Adomaa, a petty trader who deals in soaps to make a living.

Adomaa, who was speaking to Eugenia Diabah on Everyday People, shared that during her formative years, she dreamed about becoming a musician.

She adds this love and passion for music drew her to the late Highlife musician, Daasebre Dwamena who later contracted her to be his backing vocalist.

Adomaa further disclosed that they fell in love while working together and almost got married but their plans fell through because of her grandmother.

This, she explains, told her that the music industry was one filled with promiscuity and that got into her head.
"I like music. Any song you ask me to sing I will be able to sing. So, I decided to do music after JHS. At the beginning of my musical career, I was going out with Daasebre Dwamena. We were doing the music together. But my grandmother said that the music was not good for me as it connoted promiscuity. I agreed with her and stopped the music.

She subsequently left the music path and the relationship with Daasebre Dwamena slowly came to an end.

"Daasebre almost got married to me but I paid attention to my surroundings and decided to stick to what my grandmother said and left the relationship. He even went to my hometown; Ada Ayirebi but I still said no because grandmother opposed it and I saw that it was not good for me," Adomaa said.

Meanwhile, Adomaa is currently in the movie industry as she reveals she has acted in a number of series and movies with Omega Film Productions.

She foresees a bright future ahead if the Ghanaian movie industry is revived to its dazzling state.

Everyday People is a show on GhanaWeb TV which seeks to bring our readers and viewers the challenging and heroic stories of the ordinary Ghanaian.
Watch the full episode of Everyday People on GhanaWeb TV below





BAJ/DAG