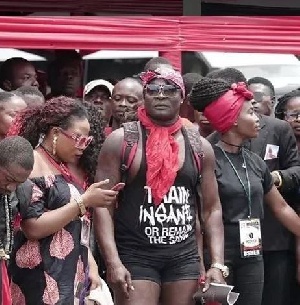 Bukom Banku who was mobbed upon his arrival at the grounds lauded his 'lover' Ebony for her good music which the president of Ghana, His Excellency Nana Addo Dankwa Akufo-Addo even likes.
"Her songs are good. Everybody likes it including President Akufo-Addo," Bukom Banku said in an interview with reporters at the funeral. "Ebony is my lover. I want to tell everybody to pray her. Everything is by God so we should forget everything. God gives and God takes.

I came to observe what is going on." On the topic of road safety, Banku said he fears that celebrities are dying in road accidents because he is also a celebrity. The boxer also admonished pastors to not blow up revelations but call them to pray for them.
"The way the stars are dying in car accidents, I fear because I'm also a star," Bukom Banku continued. "I want to tell all the pastors in Ghana to pray for us. If there is something wrong happening to the stars, you pray for them. The accidents are too much for the nation. "I'm not happy about that but if you see something is wrong with someone, you must talk to them one on one but if you blow it up, it's not fine.

"If a pastor sees something on Bukom Banku, my side, you can call me and I'll come for you to pray for me to be free." Bukom Banku has a rematch with Bastie Samir, a bout that will surely break the Ghana Internet like the first.