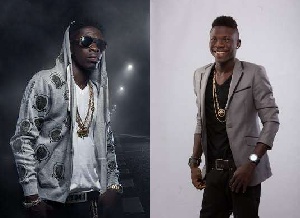 Dancehall artiste, Shatta Wale has defended why he teased Stonebwoy with his disability.
Shatta Wale used several unprintable words against his colleague, Stonebwoy in several posts on his social media handles.

Shatta Wale in a series of posts described Stonebwoy as a cripple who needed to go onto the streets to be begging for money rather than be in the music industry because that does not befit him.

Shatta Wale posted "See villager with pride ..One leg cripple who doesn't pity himself ..so Ghana you call this humble and respect ..apakye nyansanii ..ur sheda like my new watchman waiting on his first nite to collaborate with my area mosquitoes..You don't understand entertainment go into ur begging business..the most foolish and senseless cripple ever….Humble my foot…..fucker dat !!".
The post by Shatta Wale did not sit down well with several Ghanaians who were of the view that Shatta Wale was supposed to stick to the lyrical battle rather than personalize the attacks on Stonebwoy.

But reacting to criticisms from the public, Shatta Wale indicated that he sees no wrong with him calling Stonebwoy a cripple bacause Stonebwoy referred to him as a man with a big mouth.

He said in a post on Facebook that "If boy post for snap say my mouth big weh I say Ibe cripple what's wrong with that.. Omyshitvoice ,look for your facts well before taking those ur foolish and comic poor shirt videos …nkwasiasem kwaa woe Ghana".