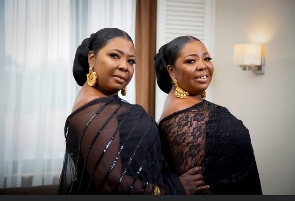 Gospel music duo, Tagoe Sisters say there is nothing wrong with Christians listening to Highlife music produced by secular musicians.
The music group of twin sisters consisting of Lydia Dedei Yawson Nee Tagoe and Elizabeth Korkoi Tagoe speaking on Kingdom FM argued that most of the highlife music some Christians look down upon has very inspirational lyrics hence listening to them is good for the soul.

Citing an example, Tagoe Sisters revealed that highlife musicians like Amakye Dede and Nana Ampadu have a lot of great songs that have the power to motivate and inspire people like themselves.

According to the duo, everybody living under the sun is a son of God hence there is nothing like children of Satan.
"God lives in Nana Ampadu so there is nothing wrong with listening to Highlife music. Some of the songs are like advice", Tagoe Sisters told Fiifi Prat on the show Afro Joint.

"Most of the old musicians recorded good music, unlike the new crop of musicians. Comparing Highlife with Gospel music, it looks like we are all in the same thing because of the rhythm. We are in the same industry so we can't say they are of Satan and we are the children of God", the duo added.