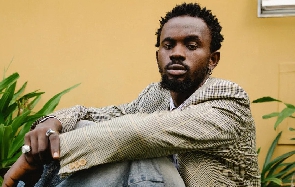 Ghanaian artiste, Black Sherif, has touched on the current economic and political challenges faced by Ghanaians, particularly the youth, in recent times.
During an interview with OkayAfrica, he expressed his concern about the hardships endured by Ghanaians, emphasizing the economic struggles caused by the rising inflation.

He also highlighted how the increase in prices of goods and services have made it difficult for people to afford basic life necessities such as food, fuel and so on.

"There's so much hardship going on in Ghana, economically, and politically. People are suffering from inflation. They can't afford petrol or food," he stated.

However, in the of the economic woes, Blacko said netizens usually console themselves by participating in the country's vibrant nightlife.

He observed, "But then when the sun sets, everyone comes out in a crowd like, 'yeah, man, we're outsiddee!' So, it's like there are so many complaints, but from night to dawn we are in the moment."
According to Black Sherif, he has since faced countless struggles but in spite of everything, he chooses to remain resilient and inspire fans with his experiences.

"I kind of talk for a frustrated figure in the city, a frustrated boy. I'm not from the city, but I live in the city. I came to chase life and dream there. From love to entertainment to survival. Driving out there, I'm testing my limits," he added.

He also touched on some of his self-taught skills, such as skating and mastering BMX freestyle within a short period.

"I learned how to skate in 30 minutes. I taught myself BMX freestyle in an hour. I feel like nothing is impossible in this world," he said.

Watch the latest episode of Nkommo Wo Ho on GhanaWeb TV here:




ADA/EB