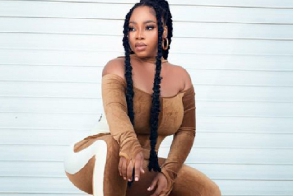 In what seems like a commiseration post, Afia Schwarzenegger has promised to continually pray for Moesha, who is said to have 'backslidden' from her Christian faith.
Afia Schwarzenegger, who appears saddened about the manner in which 'born-again Moesha' has been conducting herself in public lately, has taken to social media to express her dissatisfaction.

The popular socialite who has described herself as a 'sexy woman of God', has been flooding the internet with back-to-back dance and twerking videos.

This comes after her latest interview with Delay, where she made some striking revelations about her mental condition.

However, Afia is one of the many individuals who felt it was a wrong idea for Moesha, who is still struggling mentally to have been interviewed by Delay

Stressing this development, Afia Schwarzenegger who seems to have been keeping tabs on the actress appears unhappy about the turnout of events.
A displeased Afia took to the comment section of Moesha's latest dance post and wrote, "DANCEGOD MOESHA....PRAYING WITH YOU WOMAN OF GOD. IT SHALL BE WELL IJN.WE WILL WIN THIS BATTLE."

Not long after, Moesha replied; "I am not sick don't also believe all you read about me online."

In response to Moesha's comment, Afia Schwarzenegger, who believes Moesha isn't in the right state of mind has asked her to henceforth, desist from granting interviews.

"I didn't read anything online...this new Moesha is not you and God will win in the end..till then enjoy dancing and stop the interviews Yes STOP. Enough!!!!"

Read the post below:
EB/BB