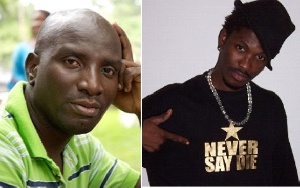 Aletse Tinny is set to release visuals to his diss song to ace filmmaker and entertainment analyst, Socrate Safo.
In May 2015, Tinny and Socrate had a little disagreement on Peace Fm, and Tinny who got offended by the line of questioning of Socrate Safo got into the studio, and then released a song titled Socrate Atanfo.

According to Tinny, Socrate Safo hates him so-so much, and he had no choice than to hit the studio.
The visuals are now ready, the video was shot here in Ghana, and more or less it's a ghetto kind of setting.

The video will be released soon!