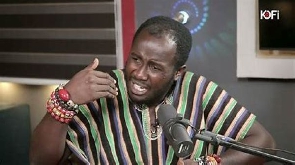 Poet and author, Philip Boakye Dua Oyinka, known professionally as Nana Asaase has expressed his desire to restructure the tourism ministry if he were the president.
Speaking to Sarah Amelley Djosu on Celeb Biz on Joy Prime aired on November 18, Nana Asaase stated that there was too much duplication of roles at the ministry.

He added that he would simplify the system by combining related departments. As an example, he suggested merging the Ministry of Tourism with the Ministry of Arts and Culture for more efficiency.

"If I were president, I would enter parliament and see how we would be able to draw all the curtains down, freeze all of them, take your time, and put one body together.

"If it's the Ministry of Tourism, let's have the Ministry of Tourism. If it's the Ministry of Arts and Culture or Cultural Affairs, let's put that together so they can be two separate entities. There is too much replication of roles when the system can be so fluid," he said.

Nana Asaase also emphasized the need for collaboration between the tourism and art sectors, stating that their synergy is crucial for success.

If he became the Minister for Tourism, he pledged to set realistic targets and focus on improving infrastructure, such as roads leading to tourist sites.
Additionally, he highlighted the importance of incorporating indigenous methods into development plans.

"I would see to it that I would make promises and keep them. I'll set realistic targets. As a poet, I tell you that I have a show on this day, and I'll deliver, which simply means I made a promise and I've kept it.

"Now, I'd go back and look at indigenous ways of architecture, for instance; set up a fantastic academy, and people from different parts of the world would come to the centre of the world to learn," he said.

Nana Asaase has performed for various high-profile figures, including all the Presidents of Ghana's Fourth Republic and King Charles of England, during his 23-year career as a poet.

He attributes his success to hard work, consistency, and the impact of expressing himself in his local dialect, Twi, which resonates with Ghanaians.

ID/NOQ
Click here to follow the GhanaWeb Entertainment WhatsApp channel



Ghana's leading digital news platform, GhanaWeb, in conjunction with the Korle-Bu Teaching Hospital, is embarking on an aggressive campaign which is geared towards ensuring that parliament passes comprehensive legislation to guide organ harvesting, organ donation, and organ transplantation in the country.

You can also watch the newest episode of Nkommo Wo Ho on GhanaWeb TV below: