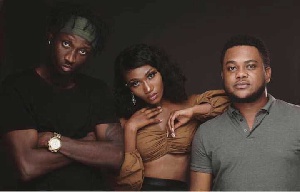 Ghpage.com has received reports that two high ranking members of Rufftown Records owned and managed by Ricky Nana Agyeman aka Bullet have parted ways with the record label over unsettled beef.
According to Ghpage.com's authentic source, Artist manager of Rufftown Records, Allen Kofi Anti who managed Ebony Reigns until her death and also was in charge of Wendy Shay's management has resigned from the record label.

The second person who has resigned from the Record label is Ogee The MC, the hypeman of Ebony Reigns throughout her time with Rufftown Records and Wendy Shay. Ogee The MC it is believed introduced Ebony Reigns to Bullet.

After Ebony Reigns death, there were wild reports that Ogee was the boyfriend of Ebony Reigns. He fueled the report with intimate photos and videos of himself and the late Dancehall artist. Although there are other reports especially from the publicist of Rufftown Records, Alexander Fiifi Abaka that the boyfriend rumors are all lies.

From what Ghpage.com has been told, these two top management members resigned from the record label over an unsettled feud with Wendy Shay and Bullet. Ghpage.com has authoritatively been told that the feud is about Ebony Reigns.

Our source tells us, Bullet backed by Wendy Shay and a few others have taken an entrancement position about Ebony Reigns and are refusing to have anything to do with her one-year death anniversary which falls on 9th February 2019 (5 days from now).
Ogee The MC and Allen Kofi Anti who were very close to Priscilla Opoku Kwarteng aka Ebony Reigns wants the label to be involved in Ebony Reigns anniversary despite the misunderstanding with Ebony's father but Bullet and the others wouldn't take it.

Secondly, Ogee and Allen started on a good foot with Wendy Shay but along the line, they fell out with her. They have had several misunderstanding with Wendy Shay but always Wendy Shay gets the backing of her boss, Bullet so she keeps on "misbehaving".

Ghpage.com source tells us Allen and Ogee claims they had no choice but to walk out of the record label. Already, Ogee has deleted all images of Wendy Shay from his social media handle and has also unfollowed Wendy Shay on Instagram. Wendy Shay has also done the same by unfollowing Ogee.

Ghpage.com has reached out to these individuals involved in the fallout for confirmation and we will update you when we get more details. In the meantime, Stay with Ghpage.com for more exclusive gist.