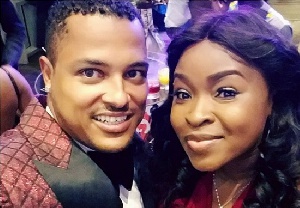 Popular Ghanaian actor, Van Vicker has been married for a long time but he is sounding like someone who is freshly in love on his wedding anniversary.
To mark 14 years of marriage to his wife, Adjoa, the Nollywood and Ghollywood star has taken Instagram to celebrate her and even described her as "a very angelic lady".

In a series of posts, Van Vicker recounted their journey from when they first met in 1994 and how far they have come.

"Yeah, the route had turbulences, it was muddy, rosy, revolting, honeyed, distasteful, so on and so forth. Graciously WE ARE STILL TOGETHER", he posted.

He further added that: "It is an indisputable fact that you are a loving and remarkable wife. Envious by all my very few friends (y'all can not disagree o, it's my anniversary, when yours is up write whatever I will agree to it, lol). I love you and we thank God for yet another year".
The couple have been married since 2003 and are blessed with three kids.