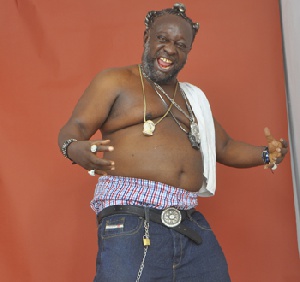 Tue, 14 Aug 2012 Source: viasat1
Popular Ghanaian actor and veteran in the arts and entertainment industry, Kojo Dadson, is currently on admission at the Korle-Bu Teaching Hospital after suffering a mild stroke attack on set of 'Illusions', a Ghanaian television series.
Recounting the incident to Viasat1 News Online, the producer of 'Illusions' said while shooting the series last Tuesday August 7, the 'Love Brewed in the African Pot' actor just fell to the ground.

According to the producer, Kojo was not himself even before the shoot, but continued anyway until the incident. He was rushed to the hospital and has been admitted since then.

"Kojo is recovering steadily and can now raise his leg, but not his hands," says the 'Illusions' producer.

Shooting of the series has meanwhile been brought to a standstill, as a result of the incident.
Kojo started acting during the days of 'Thursday Theatre' and played a significant role in Village Communication's 'Number 5 Kotokuraba Street.' He also played an integral part in 'Sun City' before Revele films introduced 'Home Sweet Home' and 'Hotel St. James' which made him very popular.

He also featured in international award-winning movie 'Run Baby Run' and 'Love Brewed in African Pot.'

'Illusions' shows every Monday at 8:30pm only on Viasat1.
Source: viasat1