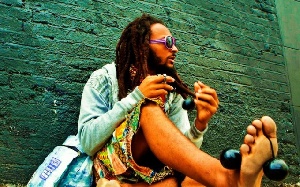 With so much love for the dearly departed dancehall artist Priscilla Opoku Agymang who was well known as Ebony, Ghanaian musician Wanlov has named her daughter after her.
The Kokonsa hitmaker made this known on the 21st birthday of the Ebony Reigns.

Although he had a name for the daughter, she felt it was right to change it.

According to Wanlov, her daughter was born 3 days after the demise of Ebony and hopes the daughter lives up to the love and strength of Ebony.

Wanlov has now named her daughter Ebony Akosua Mansa.

Wanlov The Kubolor has since the demise of Ebony eulogised her on social media and quite a way to keep her memories forever.
In a post on Instagram, Wanlov described Ebony as a powerful ancestor who in the short time she lived gave off enough energy.

Check his tweet from below.


Ebony my daughter was born 3 days after you passed on...i had a name for her, but that has changed...i hope Ebony Akosua Mansa lives up to your level of strength and love...happy birthday???????????? pic.twitter.com/G72h4cB02w

— #EbonyReignsForever (@wanlov) 16 February 2018