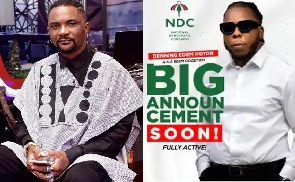 Entertainment critic, Mr. Logic, has described Edem's recent supposed social experiment with the political colors of the NDC and NPP as a failed one.
While speaking on UTV's United Showbiz show on Saturday night, the outspoken artist manager stated that he was very disappointed after he realized that the whole thing was a supposed prank.

Mr. Logic added that his disappointment was born out of the fact that he was very happy after he saw the first flyer of Edem with the colors of the opposition political party, the National Democratic Congress because he thought the musician was taking the bold step to be part of the people who take decisions for people in the country.

He went on to add that Edem and himself are no longer kids and as such, the former should not take such things lightly, especially, when many people believe that he has what it takes to be in the parliament house of Ghana.
The 'Alommo' crooner also indicated that he has personally been muting the idea of contesting for a parliamentary seat soon because the individual who has been elected to represent his constituents has failed woefully.

Watch the video below…