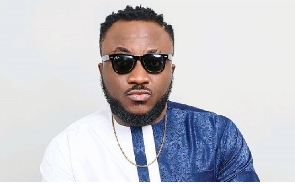 Mon, 2 Jan 2023 Source: Fenuku Augustine, Contributor
Ahead of the New Year Comedy Show slated for January 2, 2023, comedian DKB has sent a message to the Ghana Football Association president, Kurt Okraku.
The comedian has said he won't hold back when discussing the Ghana Black Stars and the 2022 World Cup campaign. DKB asserted that he is prepared to appear in court because on January 2nd, he will roast Kurt Okraku, despite the GFA having warned that people would be prosecuted if they disparaged the GFA and the Black Stars.

"We will roast him [Kurt Okraku] come Monday, January 2, 2023 at the New Year Comedy Night event. On the night, we [comedians] will dive into all that happened in 2022 which fortunately Kurt Okraku and the Black Stars actively participated in," he said.

"Yes, I am aware of the letter that was published by the GFA, but it wouldn't intimidate us into cowering and not speak about GFA and The Black Stars. We are ready to go to court because we will roast him [Kurt Okraku]," DKB added.
Aside from DKB, there will be great performances by OB Amponsah, Lekzy DeComic, Foster Romanus, Jeneral Ntatia, Parrot Mouth, Putogo, and MjTheComedian with music from Sista Afia and Cina Soul.

The show will be hosted by Lawyer Nti.
Source: Fenuku Augustine, Contributor