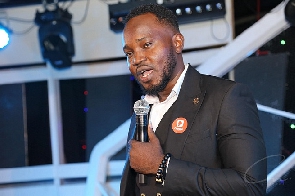 Ghanaian comedian and social media influencer, OB Amponsah, has lamented the apathy shown towards choral music in Ghana.
According to him, choirs are only appreciated when influential gospel artistes like Joe Mettle or political parties use them.

He made these remarks on his Facebook page on November 19, where he expressed his admiration for choral music in Ghana and urged Ghanaians to appreciate and promote the genre more.

He said that choral music has a lot of talent, quality, and creativity, and that it deserves more recognition and exposure, especially at award ceremonies.

"Ghanaians only fvck with choral music when Joe Mettle picks the songs up. Or a political party picks it up for campaign. Meanwhile these choral groups have the best of compositions, melody, conscious lyrics, incredible voices...

"Their laurels all over Africa and the world are so many, yet we don't even recognize them during our music awards. Harmonious chorale, One Voice Choir, Symphonials, Gramophone Ghana, Seraphs and the many talented others are killing it out there… We need to push them beyond just Saturday and Sunday services. There are too many talents there," he said

He also praised a song by FimFim, a Ghanaian rapper, that featured Loretta Larbi, a female vocalist from One Voice Choir Ghana. Citing it a good example of how choral music can collaborate with other genres and reach a wider audience.
"That is why I was over the moon when I saw FimFim's song KOKOTAKO and it had one of the best female vocalists in Ghana LORETTA LARBI of One Voice Choir Ghana featured on it!!! More of these. Ghanaians need to know and talk more about you guys," he said.

He encouraged his followers to listen to and support choral music in Ghana, and to appreciate the efforts and achievements of the choral groups.

Check the post below.



ID/OGB


Click here to follow the GhanaWeb Entertainment WhatsApp channel

Ghana's leading digital news platform, GhanaWeb, in conjunction with the Korle-Bu Teaching Hospital, is embarking on an aggressive campaign which is geared towards ensuring that parliament passes comprehensive legislation to guide organ harvesting, organ donation, and organ transplantation in the country.

You can also watch the newest episode of Nkommo Wo Ho on GhanaWeb TV below: