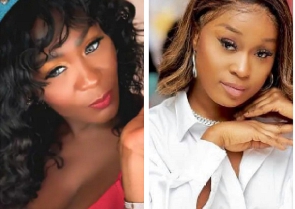 Efia Odo has recounted a conversation she had with Confidence Haugen at a time she (Efia) was caught up in a heated online banter with Fella Makafui.
Five years ago, Fella and Efia Odo engaged in a heated back and forth which has resulted in an enmity between them to date.

Efia Odo out of the blue took to Snapchat and labeled Fella an 'Old hag' who sleeps with politicians for money, without any evidence.

She also accused Fella of sleeping with Medikal, who was at that time Sister Derby's boyfriend among other serious allegations.

But recounting all that ensued, Efia Odo but for the intervention of Confidence Haugen, things could have gotten worse.

She said the popular Ghanaian socialite cum Queen mother, called her to order and demanded an apology on behalf of Fella Makafui, which she did.
"Confidence scolded and advised me about my beef with Fella. She told me what I was doing was bad so I should put a stop to it. She asked me to apologize but at that time, Fella had blocked me so I just apologized on social media and moved on," she stated in an interview with Metro TV.

Efia Odo, however, recalled how her feud with Fella Makafui started and Sista Afia's 'uninvited' interruptions.

"I was new in the industry and didn't know my way around. Fella and I had our issue. She did something I didn't like and it was wrong for me to have come and blasted her in the manner I did but I didn't know. So it was a situation between me and Fella but Sista Afia did not like me already so she joined.

"Sista Afia had an issue with something I did to her in America. Before I relocated to Ghana, I saw a picture of her and a certain girl on social media. At that time, I didn't know the other girl was Eno. They were wearing boots and their outfits just wasn't giving. So, I posted the picture and asked whether they don't have stylists in Ghana. So that was all.

"My post was sent to her and she publicly reacted to it, saying who is this bitch and so on. Asking me to run when I see her on the streets and whatever. So, because I had issues with Fella when I came to Ghana, Sista Afia joined because she already had her issues with me. So, she joined in on my beef with Fella although she wasn't invited. It has since always been that way. Whenever Fella and I are going at each other on social media, she will join in it," she asserted.
The 'secure the bag' hitmaker said no relationship whatsoever currently exists between her, Fella and Sista Afia.

"There is no relationship. As for those two, I don't know them. Once I am done with you, you don't exist. Fella and Sista Afia are ghosts to me."

Watch the video below:


I don't know @sista_afia and @fellamakafui_; they're ghosts to me - @Efiaodo1 on #AyekooDrive @Original919fm pic.twitter.com/e7hiPxM1CZ

— Metropolitan Television (@metrotvgh) February 20, 2023
EB/BB